Touchstone Essentials Rallies For The Keep A Breast Foundation
December 5, 2019
By Team Business For Home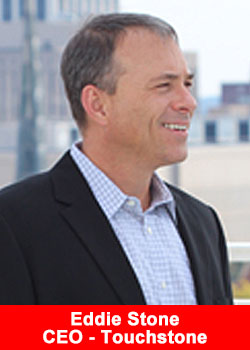 In the run up to Breast Cancer Awareness Month, Touchstone Essentials challenged its Visionary Business Owners (VBOs) to raise money through the annual Fit 4 Prevention campaign in support of The Keep A Breast Foundation™ (KAB).
Each year, the KAB #Fit4Prevention campaign works with hundreds of studios, gyms and individuals across the nation to raise funds through donation-based workout classes. Touchstone Essentials pledged to match their VBOs' efforts up to $100 per class—and the VBOs did not disappoint. This year, through the combined efforts of VBOs and Touchstone Essentials, over $13,000 was raised for Keep-A-Breast.
During the month of October, Touchstone Essentials' VBOs got creative with their events, going beyond hosting workout classes. Dozens of events and fundraising activities took place across the country, with a shared common goal.
VBO and Licensed Massage Therapist, Sabrina Wright, pledged to donate a percentage of every massage booked and every gift certificate purchased through her business, The Wright Balance. She said:
"I wanted to partner with them (KAB) because their message is prevention and that comes from awareness and making better lifestyle choices."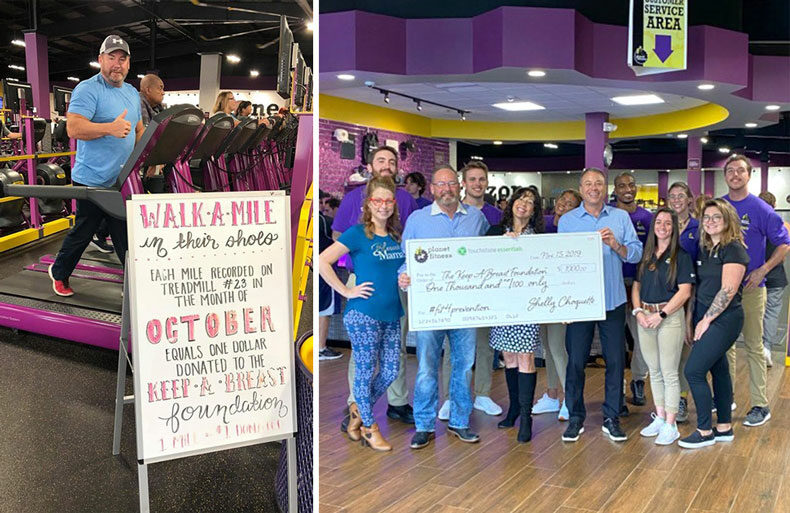 Top leader Alan Newell collaborated with Planet Fitness to donate $1 for every mile someone walked on the treadmill during his events. He shared,
"Keep-A-Breast is working to empower young people with education about breast cancer prevention and I'm grateful to Planet Fitness for offering up not one, but two treadmills, one in each of their Wilmington, NC locations, for this worthy cause. They made it a point to choose the most-used treadmills, and in the month of October we logged nearly 1,000 miles."
Planet Fitness franchise owner, Shelly Choquette shared,
"We wanted to be part of something that was important to our members, and Alan was chosen to receive the benefits of this Planet Fitness donation. We're grateful we were able to donate to this cause."
These events also had great meaning to VBO leader, Denise Longtin. She combined two fundraisers with two existing networking events and even held one virtual event via Facebook Live. She shared,
"I love this organization because prevention is the key, and this cause is especially personal to me as I'm coming up on my 2-year anniversary of being cancer-free."
An estimated 1 in 8 women will receive a diagnosis of invasive breast cancer in their lifetime, and prevention efforts are vital to help reduce that number. Research shows that one of the best ways to reduce the risk for breast cancer is with exercise. According to Fit 4 Prevention, just 30 minutes of exercise 3-4 times a week can lower the risk of developing breast cancer by 30-50 percent.
"We know that even small changes to diet and lifestyle can make a big difference in health outcomes. We're proud to support the efforts of our VBOs who are raising awareness and funds for breast cancer prevention," 
said Touchstone Essentials' Founder and CEO Eddie Stone.
KAB's mission is to empower young people around the world with breast health education and support. It's a philosophy that aligns perfectly with Touchstone Essentials' commitment to clean ingredients, organic practices, and superfood goodness.
About Touchstone Essentials
Touchstone Essentials was founded in 2012 by 30-year industry veteran, Eddie Stone, with a vision of organic goodness accessible to everyone. They ship to over 60 countries around the world. Touchstone Essentials has been experiencing double-digit growth over the past 3 years and with the recent launch in August 2018 of the organic CBD hemp oil line, things have started reaching critical mass.
They describe themselves as proud rebels with a cause, offering products for Daily Detox, Organic Superfoods, and CBD. When you join as a VBO, you become a visionary business owner. As a VBO, you're the CEO of your own empire, but you're not alone.
Touchstone Essentials offers an advanced digital marketing system with a trove of resources, all at no additional cost. This includes a TheGoodInside.com e-commerce site, blog, and e-newsletters, social media retargeting and more. For more information please visit www.thegoodinside.com