Total Life Changes Closes Its Fourth Quarter With Record Sales
January 5, 2020
By Team Business For Home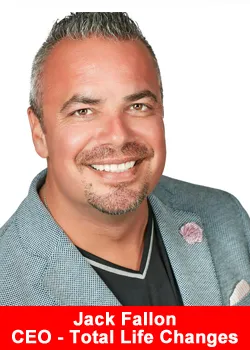 Total Life Changes (TLC) challenged its sales force of Life Changers to turn the tables on the typical holiday lull of sales and new sponsorships. The direct selling industry, like many other global enterprises, tends to report slow sales leading up to Thanksgiving through the start of the new year.
TLC's founder and CEO Jack Fallon challenged the executive staff to defy trends and provide an undeniable campaign that would generate excitement and action for its sales force. John Licari, TLC's COO, met with key stakeholders and devised an attractive sales plan that would exceed his expectations by 250%.
Jack Fallon weighed in on the success of 2019's fourth-quarter results:
"We understand real momentum only comes once in a while in our industry and if you are fortunate enough to duplicate this momentum you have to seize the moment and not only cherish it, but do everything humanly possible to take advantage of it.

It means taking even greater care of every customer call and email, implementing measures to correspond with our leadership even more frequently, and making sure that every one of our employees in every department and every office around the world understands the importance of this momentum. It is a blessing."
Some initiatives that Total Life Changes implemented in 2019 were:
The G5 Team Challenge took place from December 1st through December 30th. This challenge was made so that Life Changers can easily jump-start their business, earn rewards, and recognize their team members as well.
TLC had a 12 Days of Christmas promotion from December 12th through December 23rd. This consisted of 12 different 'Daily Deals' for 12 days, and when a participant purchased a Daily Deal, they were entered into a Daily Prize drawing for the next day. There were also 12 Daily Challenges, and when a challenge was completed, the participants were entered into the Grand Prize drawing at the end of the month.  Dana Waddell from Indianapolis, Indiana was randomly selected as Grand Prize winner on December 27, 2019.
Daily Prizes are always given away during Jack and John live on the TLCHQ Facebook page at 2 pm EST. Grand Prize winners were drawn during every Fun Friday broadcast. TLC had 52 grand prize winners for 2019, one for every week. It may sound small, but TLC wants to show that they appreciate their community by giving back as much as they can, whether it be with their products, points, or monetary prizes.
Rapid Drop Kit I and II were released on December 20th. These kits include some of TLC's best selling products and challenge cards which can be used to participate in the Rapid Drop Challenge. This is a weight loss challenge that is meant for TLC retail customers only and can be used to lose weight in a quick and healthy way.
Total Life Changes is very grateful for its corporate employees around the world in over 14 offices that worked tirelessly to support all of December's initiatives. TLC's COO John Licari reflects on sales and the community effort put forward this year:
"I've always been a huge believer that attitude is a reflection of leadership, and I knew that if we were going to ask people to work hard, stay focused and be passionate throughout these initiatives, we would have to take the lead and make sure that we, as leaders, worked hard, remained focused and showed our passion every day.

This helped create a high energy environment where we fed off each other's energy, and this energy became contagious and others wanted to be a part of the excitement. I'm extremely grateful to be one of the people that made this fourth quarter historic, and look forward to 2020 to continue the momentum we have created."
About Total Life Changes
Total Life Changes (TLC) is a direct selling company offering a diverse product portfolio of health and wellness products. Founder and Chief Executive Officer Jack Fallon created TLC 16 years ago with a single product: NutraBurst®.  Since that time, TLC has continued to develop weight loss and wellness products matched with an attractive hybrid binary compensation plan.
This allows Life Changers of TLC to be rewarded quickly for introducing new customers to its products and business opportunity. Find out why so many are saying, 'It really is different over here.' For more information please visit www.totallifechanges.com
Recommended Distributors Total Life Changes