Laquail Johnson Achieves National Rank With Total Life Changes
February 20, 2020
By Team Business For Home International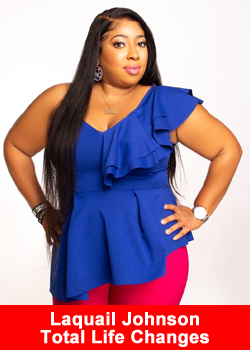 Laquail Johnson started with TLC in July of 2015 as an independent representative, which Total Life Changes (TLC) refers to as a Life Changer. She truly felt the power of the products and wanted to reach out to others to show them just how amazing they are.
Laquail was sponsored by her friend, Nathalie Nicole Smith, who educated her about the products and TLC's overarching mission. Nathalie invited her to Executive Ambassador "Coach" Stormy Wellington's home, where she learned about marketing and leadership within TLC and how to get binary qualified.
Laquail was drawn to TLC instantly, and says her" why" is fueled by what TLC offers for their Life Changers:
"Once I went to hear the presentation at Coach Stormy's house, I understood what the possibilities were. And I've always worked on commission, which I appreciated because there is no cap on what I could do. And I understood helping people feel better. Being at TLC gave me a position to be able to give someone else the same opportunity."
Laquail says the products that she initially loved were the Original Iaso® detox Tea, NutraBurst® liquid multivitamin, and the NRG. She says this amazing trio helped her lose over 25 lbs. at the beginning of her TLC journey. Nowadays, she enjoys the Iaso® Instant Tea with Full-Spectrum Hemp, because it allows her to lose weight and have a clear complexion as well. This, in turn, makes her feel more confident with her self-image and boosts her self-esteem, making her feel better than ever.
The family feeling of TLC is what Laquail loves best, and it makes her feel welcome and appreciated:
"I've always felt like I was a part of something. I never felt like I was a small person; I always felt important. I always felt loved, and I always appreciate the faith of our leader Mr. Jack Fallon and the faith of the business. It allows you to be who you are."
Laquail says that TLC has given her a platform to help people with their personal development. Being a Life Changer has helped her overcome challenges, keeps her motivated, holds her accountable and responsible for her own personal growth.
In the short-term, Laquail wants to make 2020 the first year that she achieves a 7-figure salary and use that money to pay off her student loans. In the long term, Laquail wants to have a global business, with teams from all over the world that she can support and collaborate with. She says being humble and having self-development and caring about your team is what TLC is all about. Laquail emphasizes that TLC lets you be yourself:
"My real goal is to show people that TLC can change your life, but it doesn't have to change you."
About Total Life Changes
Total Life Changes (TLC) is a direct selling company offering a diverse product portfolio of health and wellness products. Founder and Chief Executive Officer Jack Fallon created TLC 16 years ago with a single product: NutraBurst®.  Since that time, TLC has continued to develop weight loss and wellness products matched with an attractive hybrid binary compensation plan.
This allows Life Changers of TLC to be rewarded quickly for introducing new customers to its products and business opportunity. Find out why so many are saying, 'It really is different over here.'
Recommended Distributors Total Life Changes