Victoria Olorunshola Achieves National Rank at Total Life Changes
February 12, 2020
By Nicole Dunkley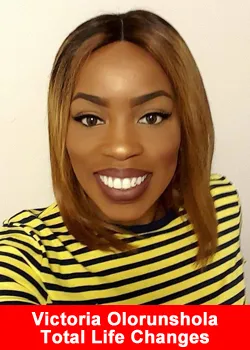 Victoria Olorunshola became a customer initially and fell in love with the products, which lead her to become a part of Total Life Changes (TLC) and selling these life-changing products.
Her sponsor, Phillip Birchfield, flew out to the U.K. in August 2018 to spend an entire week guiding her business launch. She emphasizes how supportive and helpful he was and how grateful she is for him flying from Fort Wayne, Indiana, to help her.
Victoria had tried five different MLM experiences before Total life Changes. Being a mother of 3, she built her business on social media, going by the name VictoriaFitMama on her channels, and says it was easy to build her business around her family life. After being on maternity leave, she said she only had one choice: to take a chance with Total Life Changes.
"I've always had this entrepreneurial mindset. And I said you know what, let me take a leap of faith. Even though I don't have any customers yet, and I don't have my business, let me use what I have to build something."
Victoria says that her favorite product that she initially tried was the Iaso® Original Tea. She was able to lose 6 lbs. in her first week of trying the tea, and it helped her feel more energetic and kept her regular. She also has many teammates that have tried the products, specifically Chaga, Gano, NRG, and the Iaso® Tea, and had very good results. She also says that the culture of TLC truly reflects its seven core values:
"With the core values, especially the love and the generosity, Total Life Changes is so giving. They go the extra mile, so they live by their core values, and I respect that. The founders, Jack and John, they are just amazing, which makes Total Life Changes very strong. And a company that I will stay with for a very long time."
In the short term, she wants to create more strong leaders within her TLC team, so that there is a strong foundation and a bigger effect on the community while also creating a bigger residual. Victoria says her long term goals are simple. She wants to put the UK on the map for TLC:
"Being the first National Director in the UK, I want the UK market and the European market to grow to even more than the level we are at right now."
She also speaks about Nigeria, where she is originally from, and how much she wants for it in the long term:
"Because I am from Nigeria, I also want my country Nigeria to be on the map. We only used to have brewed Iaso® tea, now the company has added so much more, NRG, Chaga, Gano, and now we can build a solid business over there."
Victoria sums up her National Director rank, saying she is very proud and wants to inspire other women to achieve their goals:
"My main goal is to impact people's lives, and I'm focusing especially on mothers because I am a mother. I've been given confidence through Total Life Changes. Self-love is important, and you can do anything you set your mind to. And Total Life Changes is a vehicle for me to be able to inspire other women to better their lives. Being the first National Director for me is such an honor. I feel like I have to be the best leader to lead a whole country to the next level."
About Total Life Changes
Total Life Changes (TLC) is a direct selling company offering a diverse product portfolio of health and wellness products. Founder and Chief Executive Officer Jack Fallon created TLC 16 years ago with a single product: NutraBurst®.  Since that time, TLC has continued to develop weight loss and wellness products matched with an attractive hybrid binary compensation plan.
This allows Life Changers of TLC to be rewarded quickly for introducing new customers to its products and business opportunity. Find out why so many are saying, 'It really is different over here.'
Recommended Distributors Total Life Changes