Kimberly Wilson Soars to Regional Rank at Total Life Changes
April 7, 2020
By Nicole Dunkley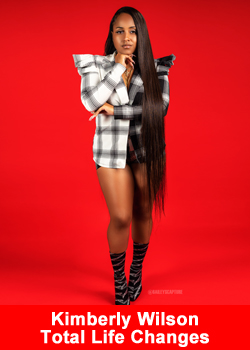 Kimberly Wilson was initially a bit skeptical after hearing about Total Life Changes from her close friend of over 20 years, Darryl Drake. But she saw his success and was slowly convinced that she could achieve her goals as well through TLC. Darryl mentored her, and soon she was on her way to becoming a Life Changer in November of 2019.
Kimberly remembers when she first started using Iaso Brewed Tea, she had lost over 40 lbs. total, and now enjoys the all-natural hemp teas as well. She says she was scared about taking hemp at first, but now is a huge fan of both of TLC's hemp teas, and says no one should be afraid of using hemp products in their routine, and reassures her customers that it is a safe option for their gut and may even help with pain as well.
She says the secret to having thousands of customers who order under her account is to have a personal relationship with them by keeping up with their journeys on social media and help them stay engaged with weight loss challenges. One of the things she admires about TLC is how the culture makes her feel:
"It's just love. All around love. Everyone is headed towards a common goal; we all want to take the company to the top. Everyone is helping, and just to see (CEO) Jack Fallon and (COO) John Licari, and how they interact with the TLC teams. They get in the warehouse, and they work and make themselves available for you to come and see them at HQ. This is a loving environment and a family environment."
Kimberly says TLC is an absolute blessing in her life and has allowed her to become financially free, spend more time with her daughter and also change other's lives in the process.
Her short-term goal is to achieve National Rank and be able to impact 500 more people, exposing them to the TLC products. In the long term, she wants to reach Executive Ambassador Rank. Kimberly says TLC has changed her life completely, and she attributes that to her mentor's helpful guidance:
"TLC has allowed me to give back myself to support the economy; I have made more than I ever have before. I'm able to provide for my family, I'm able to spend more time with my daughters. I have a very good influence in my city, and on social media. I've helped so many people lose weight. I'm just blessed to have this much influence; if it weren't for Darryl (Drake) and "Coach" Stormy (Wellington), I wouldn't be able to do this."
About Total Life Changes
Total Life Changes (TLC) is a direct selling company offering a diverse product portfolio of health and wellness products. Founder and Chief Executive Officer Jack Fallon created TLC 16 years ago with a single product: NutraBurst®.  Since that time, TLC has continued to develop weight loss and wellness products matched with an attractive hybrid binary compensation plan.
This allows Life Changers of TLC to be rewarded quickly for introducing new customers to its products and business opportunity. Find out why so many are saying, 'It really is different over here.
Recommended Distributors Total Life Changes