Tim Waider Merges With Total Life Changes
April 29, 2020
By Team Business For Home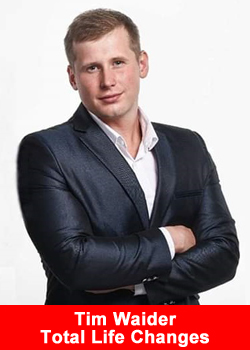 Ukraine native, Tim Waider, and his OWN team, including Eric Caprarese and Larry Lane, merged with Total Life Changes (TLC) on April 1, 2020. He says he joined TLC because he wanted to build his team even further, reaching globally and help more people out with their extensive product range.
"Eric Caprarese and my team joined TLC to offer our customers more and be able to expand our market quicker."
Tim says that he feels he is in the right place at the right time, and TLC has offered business solutions that make it easy for him and his team to get the product out and share samples:
"You have the samples, and you have everything you need to build your team. You feel protected here in this company. You can bring someone on board and be confident that they will be able to stay with TLC for a long time, and have job security because TLC has been here for almost 20 years."
Tim loves the energy of TLC and the culture, saying Jack and John are what fuels TLC to be a great company.
"When you join TLC, you join a family. All of TLC appreciates and supports their leaders, and we, in turn, want to change lives and be supportive as well."
Tim says one of the critical differences between TLC and his past network marketing experiences is their compensation plan and product range:
"At TLC, we have over 20 products, compared to about five at OWN. For me, the compensation plan is a benefit. You have a 50% match coming from those you personally sponsor, and you are going to be focused and supportive of your personally sponsored life changers. It keeps you accountable."
About Total Life Changes
Total Life Changes (TLC) is a direct selling company offering a diverse product portfolio of health and wellness products. Founder and Chief Executive Officer Jack Fallon created TLC 16 years ago with a single product: NutraBurst®.  Since that time, TLC has continued to develop weight loss and wellness products matched with an attractive hybrid binary compensation plan.
This allows Life Changers of TLC to be rewarded quickly for introducing new customers to its products and business opportunity. Find out why so many are saying, 'It really is different over here.' For more information, please visit www.totallifechanges.com
Recommended Distributors Total Life Changes