Sharon Steele Hits National Director Rank
May 4, 2020
By Nicole Dunkley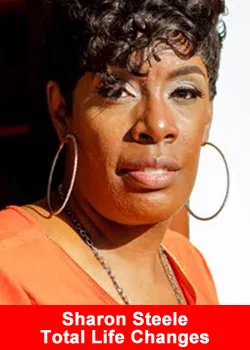 Detroit native Sharon Steele had consistently defied the odds. This single mother has dealt with depression and suicide, and was in trouble with the law as well, but her past does not define her, and she has completely changed her life and mindset. She joined Total Life Changes (TLC) in 2017, but she left for a few years, and in February of 2020, she came back full force under her sponsor Anne Birchfield.
"I ended up forming a community called Business Girlfriends. I always had TLC in the front of my mind, but what I realized was that I had to build relationships. I became transparent and opened up my life to them. I shared my story and started building a community of women who are already entrepreneurs, who want to be entrepreneurs, or just are looking for a sisterhood. I came back to TLC with a better understanding and a better plan."
Sharon had achieved National Rank, as well as gaining two Regional Directors, in her first 30 days. She says that TLC is a place where anyone can feel welcome, and she recalls how emotional and happy she felt when she first started with TLC:
"I target people that are the forgotten, people that feel they can never succeed. I was on a tether when I first visited TLC headquarters. (CEO) Jack and (COO) John they never made me feel unwanted.

They never shunned me away even when my own family didn't want to be bothered with me. It really is real, and they are family to me. People don't understand what that makes you feel like. To be somewhere and people accept you for you. That speaks volumes to me."
Sharon says her "why" with TLC is to better her family. TLC has allowed her to provide her 2 daughters with the best home environment and gave her peace of mind as well. She says one of her favorite products is NRG, as it has helped her with her mood, and helped her control her depression symptoms.
Sharon says the culture of TLC is phenomenal, and you can be who you are here. TLC helps her to make others healthy, and she says it starts with getting your mental and emotional mindset right, and then TLC helps with health and weight loss as well.
'TLC allows us to take a look at how we should be treating our bodies. It's helping my family to be healthy and wealthy, as well as my team, and It gives them a sense of ownership with their business. It's helping people's self-esteem come back, and TLC lets them know that they do have a place to be welcome, and you do have a purpose, it changes the whole mindset and culture. It's unlimited what we can do with TLC."
In the short term, Sharon wants to become a Global Director within the next 2 months. In the long term, she wants to become a Global Ambassador by next year. She emphasizes that you can always turn your life around, and encourages everyone to not give up:
"I just want people to know that if you have made choices that were not what you should have made, don't ever think that's the end, because you never know what's on the other side. TLC is right here in Detroit, and we have an opportunity that a lot of people don't. I'm here because of TLC."
About Total Life Changes
Total Life Changes (TLC) is a direct selling company offering a diverse product portfolio of health and wellness products. Founder and Chief Executive Officer Jack Fallon created TLC 16 years ago with a single product: NutraBurst®.  Since that time, TLC has continued to develop weight loss and wellness products matched with an attractive hybrid binary compensation plan.
This allows Life Changers of TLC to be rewarded quickly for introducing new customers to its products and business opportunity. Find out why so many are saying, 'It really is different over here.' For more information, please visit www.totallifechanges.com
Recommended Distributors Total Life Changes