Total Life Changes Gives Back
May 14, 2020
By Nicole Dunkley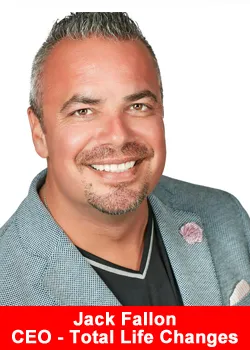 Total Life Changes (TLC) donates $182,714 during the month of April 2020 to provide hope to those in need. Random Life Changers (independent representatives) and global TLC employees were selected every day and awarded a bonus of $1,200.
TLC's founder and CEO Jack Fallon, alongside long-time friend and COO, John Licari, randomly selected winners on their daily live broadcast @TLCHQ on Facebook at 2 pm EST. The phrase, "Hit it again" became synonymous with viewers celebrating the random winners. Jack sums it up best
"Johnny (Licari), and I felt compelled to find a way to support our TLC family. Johnny came up with the term, Stimulus of Hope and I loved it. The rest just took off from there. The next thing you know, we're telling our A/V team to hit it again. And they would hit the go button on our random drawing software. It was fun. It was exciting, but most importantly, it was one way for us to give back to our TLC family."
"After a few days, someone mentioned to me that we should have a raffle for all of our employees around the world, so we started surprising employees from offices in Central and South America. Heck, we had warehouse employees winning that just started working for us. It was amazing. And what was even more incredible is their intentions for using the money toward their education, their wedding, and even giving to their parents to support the family during these trying times."
Total Life Changes truly wants help in as many ways as possible. COO John Licari emphasizes the importance of living up to one of the core values; our standard is giving more than what's expected:
"We want to give everyone more. Giving is a selfless act, and we want everyone to see that we are truly a caring and empathetic company and movement. We want you to watch our live broadcasts, we want you to tune in and see what we are doing, and we want to inspire and motivate you to achieve more. And if this bonus helps someone towards those goals, or even helps their family just make rent, or afford a special trip in the future, then we can truly say that we have achieved selflessness."
TLC supports its network of employees, customers, and Life Changers no matter what the situation. Evan Brengman has been employed at TLC for nearly five years. He received the $1,200 bonus and donated it to Henry Ford Health Systems on behalf of all the nurses and frontline workers.
"My mother and my aunt are both nurses at Henry Ford Health Systems, which is a local Detroit based company. And with everything that is going on in the world, I decided to donate my bonus to Henry Ford Health Systems so that the nurses and the doctors and any other employees involved can purchase PPE or a meal, or anything else that can brighten up their days. I hope that this can bring a smile or some happiness into their lives."
About Total Life Changes
Total Life Changes (TLC) is a direct selling company offering a diverse product portfolio of health and wellness products. Founder and Chief Executive Officer Jack Fallon created TLC 16 years ago with a single product: NutraBurst®.  Since that time, TLC has continued to develop weight loss and wellness products matched with an attractive hybrid binary compensation plan.
This allows Life Changers of TLC to be rewarded quickly for introducing new customers to its products and business opportunity. Find out why so many are saying, 'It really is different over here.' For more information, please visit www.totallifechanges.com
Recommended Distributors Total Life Changes