Derek Chew From Singapore Achieves Ambassador Double Diamond Rank At ASEA
June 11, 2020
By Team Business For Home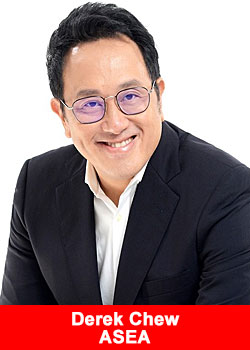 Derek Chew always knew he wanted to be a business mogul.
He has spent the last twenty years doing business in Singapore with companies just getting their start in Asia but didn't really find his niche until he was introduced to ASEA.
"Asia is considered one of the most dynamic and competitive environments in the world. Positioned in Singapore, the gateway to Asia, I helped several companies develop their market strategies, but like most people, my life was about making ends meet."
explains Derek.
After discovering ASEA's breakthrough redox signaling technology, he realized how relevant and crucial it was to introduce it to the Asian market. "ASEA redox technology fills the missing demand in health and wellness," says Derek.
"Its products are simple, innovative, and complementary to the human body."
Derek says his use of ASEA products has helped him feel better in myriad ways, including an improvement in the quality of sleep at night. Now Derek enjoys swimming, working out, reading, and relaxing when he isn't working hard as a top performer in Singapore. He is looking forward to experiencing the new ASEA Diamond Life program.
"Regardless of background and status, ASEA is truly a business for active lifestyles at any age and an equal opportunity to all," says Derek.

"The power of this distribution model has enabled me and my team to spread the ASEA redox technology with effectiveness and efficiency, changing the lives of individuals and uplifting their own beliefs to do more for themselves and the world."
About ASEA
ASEA is a growing direct-sales phenomenon born from the vision, passion, and Fortune-500 experience of company founder Verdis Norton.
Profitable from its first year of business and financially sound, ASEA produces its one-of-a-kind products in an FDA-registered, NSF-certified facility, and they are redox certified by a prestigious third-party lab. The manufacturing processes are 100% owned and operated by ASEA, guaranteeing product quality time and time again.
Today ASEA is led by an executive team with extensive experience both in and outside the network marketing industry. ASEA's executives are committed to the company's long-term sustainable growth while maintaining the principles and values upon which the company was founded.
From its inception, ASEA has nurtured a culture of ethics and integrity. It's a global company built on a philosophy that embraces principle over profit and investment in people—a quality that attracts competent, outstanding Associates.
Whether providing a business opportunity, an avenue to optimal health, or a path to personal growth, the people of ASEA strive to succeed and to enhance the lives of everyone around them.
ASEA was recently announced as #44 in Direct Selling News "2020 Global 100 list of top direct selling companies in the world based on 2019 revenue" For more information please visit www.aseaglobal.com
Recommended Distributors ASEA