Myra Cottman Inspires 1000 Seniors at TLC
June 16, 2020
By Nicole Dunkley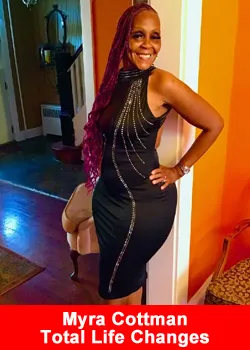 Myra Cottman may be 57, but her bright personality and strong work ethic keep her feeling young. She was recently inspired to create 1000 Seniors Movemebnt aimed at encouraging people to get active and stay healthy as they age. She joined TLC in 2019 after she got out of a long-term relationship, which sent her into a dark place, and she asked God to help her get out of the situation.
"One day, I just went up to TLC world headquarters and it was the best thing that ever happened to me. I gained my identity over again; I recognized that I love me now, and I just have to love others first. And it was something that I wanted to create and be mine, and TLC was the answer for me."
She says that TLC has allowed her to reach more seniors by providing her with a 1000 Seniors logo, and helping her launch her Instagram and Facebook page. The 1000 Seniors Movement means the world to her, and it allows her to reach out and motivate everyone.
"I'm able to motivate different people of different ages, whether it's a senior or a younger person. I think not being afraid to show myself and my before and after pictures motivates people. I love the way I look, I love the way I feel, and no one can take that away from me. It allows me to be free; it allows me to be myself."
She says that some of her favorite products are the Iaso® Teas, NutraBurst, NRG, Resolution Drops, Life Drops, Slim AM, and Chaga. She says that her sister uses NutraBurst, and her mother uses the products as well, including NutraBurst and Alleviate cream. She also has grandkids that take the Nutraburst as well.
In the long term, Myra hopes to build an entire TLC Life Changer team with just seniors and says she will take anyone who is coachable, willing to work and grow, and uses the products. She says that getting on board with TLC is important, and can help change your life:
"I feel good, I have plenty of energy, and I'm able to exercise. I couldn't do that before, and I recommend that people try these products, because it will make a difference in how they feel."
About Total Life Changes
Total Life Changes (TLC) is a direct selling company offering a diverse product portfolio of health and wellness products. Founder and Chief Executive Officer Jack Fallon created TLC 16 years ago with a single product: NutraBurst®.  Since that time, TLC has continued to develop weight loss and wellness products matched with an attractive hybrid binary compensation plan.
This allows Life Changers of TLC to be rewarded quickly for introducing new customers to its products and business opportunity. Find out why so many are saying, 'It really is different over here.' For more information, please visit www.totallifechanges.com
Recommended Distributors Total Life Changes