TLC's Third Virtual Event Wraps Up
September 3, 2020
By Nicole Dunkley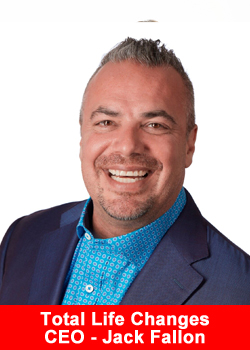 Total Life Changes (TLC) had its third Virtual Event on August 29,2020. Starting early in the morning, TLC's corporate staff met in downtown Detroit to record various training for the community, including compliance, back-office orientation, mobile App training, and much more. CVO Jack Fallon opens the event with a few inspiring words about what the company means to him:
"Everything that we're doing is virtual, but we're coming to your country and your city. Again, we are blessed and honored for you to be on this virtual event with us; it means so much to us. This event, like all of our events, is a pure celebration. A celebration of the TLC community, what the community does for you, how we love, and how we live out the Core Values."
The Total Transformation story from Aprill Edwards was featured next. She had a challenging but rewarding weight and health journey with TLC and their products. She expresses her gratitude and shares her experience:
"Now, I understand the true impact that a woman has on her family. When I went down, I took everybody down. I knew the right things to do, but I could not get back on track. I'm thankful for my kids because they let me know that giving up was never an option. Then I started feeling like Aprill again; my energy was back; my body was responding. And I don't ever want to lose what I have right now."
The corporate staff hand-picked seven community members to win the Core Value Awards, which reflect the mission and morals of the company itself. TLC's Core Values in order are: "Having fun we get more work done," "Passion is our fuel," "We are always hungry for more," "Our standard is giving more than what's expected," "Grateful is our mindset," "We don't just do what's easy, we do what's right," and "We love each other period." Julie Turgeon, Alejandra Diaz, Maia 'Kechahfyah' James, Chenile Brown, Georgette Thompson, Miriya Bryant, and Jose Luis Cervantes, respectively, won the Core Value awards.
A personal message from Lisa Roberts about her husband, Robbie Roberts, tugged at our heartstrings. Robbie Roberts had been involved in a severe car accident in July, and his family has been watching him recover for more than a month. He was chosen to receive the Believe Award, and the TLC corporate staff offered their warm thoughts and hopeful words. COO John Licari spoke from his heart and showed his appreciation for Robbie:
"He has always been grateful, even if he never won anything. I talked to Lisa, and she was terrified, and she said," He might not make it." And I said, "This world needs people like Robbie Roberts, and he's not going anywhere, because he exemplifies exactly what we need in this world. People that can give us hope and belief, and he doesn't just light that torch; he is the torch. And he is a perfect example of what I want to accomplish while I'm on this earth, to leave a legacy behind of being an overall good human being that gives back to our community."
The Virtual Event then wrapped up with a surprise message from VP of Sales, Latin America, Bolivar Enriquez:
"In this new reality that we have, it made us all equals. There is no power; there is no money; there is no wealth, no poverty, no race, no religion. At this time, I'd like to remind us that we are all the same. We cannot roll back the time to the beginning to change all of this, but we can start today to change the end. I want to give you guys the courage to strive and continue to give your best. And never forget this phrase: "Good things come to those who insist on resisting."
About Total Life Changes
Total Life Changes (TLC) is a direct selling company offering a diverse product portfolio of health and wellness products. Founder and Chief Vision Officer Jack Fallon created TLC 17 years ago with a single product: NutraBurst®. Since that time, TLC has continued to develop weight loss and wellness products matched with an attractive hybrid binary compensation plan.
This allows Life Changers of TLC to be rewarded quickly for introducing new customers to its products and business opportunity. Find out why so many are saying, 'It really is different over here.' For more information, please visit www.totallifechanges.com
Recommended Distributors Total Life Changes