Always Hustling: Total Life Changes Announces Company's Youngest Executive
October 3, 2020
By Nicole Dunkley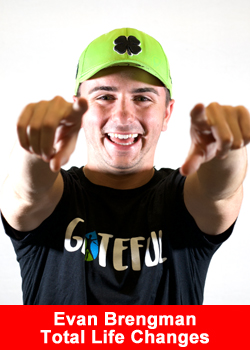 When Evan Brengman was just fourteen years old, he approached Total Life Changes founder and CEO Jack Fallon and asked if the company had any positions open. That confident query from the then-middle schooler began a professional relationship that started in the TLC warehouse printing labels and packing boxes and has led him to now serve as the company's Director of Fulfillment and Logistics. It's a rise that shows the company's ability to recognize and nurture talent, and Brengman's innate skill when it comes for forging a career.
And he's not even old enough to buy a drink yet.
A sophomore at Michigan State University majoring in Human Marketing, the 20-year-old recently took a few minutes to reflect upon his time at the health and wellness direct marketer based in Fair Haven, Michigan. When most kids his age were worried about studying, or who to take to the next school dance, Brengman was finding ways to have an impact on the business that he says has become a sort of second home to him. Now, in addition to his new role behind the scenes, Brengman is stepping into the spotlight as the host of TLC's newest streaming program, The Sunday Hustle.
Before he settled into the hosting chair, Brengman converted his after-school warehouse job into a role in the company's Accounting department where he helped with charge backs and credit card processing. From there, it was time to move up to high school, and a transition into the IT and Marketing department where he oversaw the integration of a new CRM platform. After his success in that capacity, it only made sense that Brengman would try his hand elsewhere in the company. He was moved into Events Management.
"I was able to truly connect the dots between corporate and the Life Changers," says Brengman of his time helping coordinate the conferences and events that TLC is known for.
At 18 years old, Brengman was travelling the world. He went from France to England, and then to South and Central America, where Brengman was given the stage manager role at an event in the Dominican Republic. Tasked with ensuring a positive experience for 4,000 people, Brengman came to a frightening realization: he was the only one there who didn't speak Spanish. So he did what few people, let alone people his age, would do, and he started teaching himself the language.
Today, he considers the work he did in the D.R. to be his biggest accomplishment, but to anyone familiar with his abilities, it's easy to see that there are still many more accomplishments in his future.
When the COVID-19 pandemic forced Brengman to leave his college campus, he realized just how much he missed the people of Total Life Changes. At school, he'd been working for TLC virtually. Now, he could return to the office and help support the company as it faced the challenges of a worldwide health crisis. Soon, he was back at his old job, filling boxes and printing labels, this time helping to complete a backlog of orders and dealing with the complications of keeping himself, other employees, and TLC's customers safe from the coronavirus.
His return directly led to his appointment as Director of Fulfillment and Logistics, where he manages a team of 300 people shipping as many as 70,000 orders a day.
"It's a surreal experience," says Brengman, "at such a young age to be able to lead this part of the company."
The company also recognizes Brengman's ability to inspire beyond the warehouse, which is why they've tapped him to host The Sunday Hustle, a new program that streams on the company's Facebook page at 11:00 am every Sunday. The purpose of the program, Brengman says, is to inspire the younger generation to be great and stop putting off following dreams and striving for success.
"You don't see much positivity," he says, speaking of his show's mission. "I really think we need that shining light. Change the Earth. Change the trajectory of where we can go."
In the future, Brengman sees himself graduating from the university, maybe working as a motivational speaker, but he has no plans to leave Total Life Changes.
"I want to change people's lives for the better, and TLC is the vehicle," he says.

"It's your life. You have to live it. We tend to forget that we only have so much time on this Earth. We have to do what we were meant to do," says Brengman. "You don't have to wait. If you recognize it now, go for it."
About Total Life Changes
Total Life Changes (TLC) is a direct selling company offering a diverse product portfolio of health and wellness products. Founder and Chief Vision Officer Jack Fallon created TLC 17 years ago with a single product: NutraBurst®. Since that time, TLC has continued to develop weight loss and wellness products matched with an attractive hybrid binary compensation plan.
This allows Life Changers of TLC to be rewarded quickly for introducing new customers to its products and business opportunity. Find out why so many are saying, 'It really is different over here.' For more information, please visit www.totallifechanges.com
Recommended Distributors Total Life Changes