Total Life Changes Chief Vision Officer Jack Fallon Releases First Memoir
November 14, 2020
By Nicole Dunkley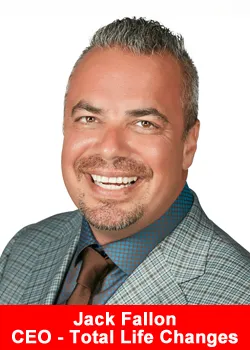 Jack Fallon, CVO of Total Life Changes, announced today the release of his first book, a memoir titled Believe in More. Mr. Fallon founded the network marketing health and wellness company in the basement of his Chesterfield, Michigan, home in 1999 and has since watched its sales grow to $250 million annually.
The book discusses Fallon's journey from a less-than-motivated student, through his time as an assembly line worker for the Ford automotive company, to his first forays into sales and marketing. Highlighted is the importance of two women in his life—his grandmother and the woman who would become his wife—as models of discipline, motivation, and faith. Fallon makes clear that the guiding principles he learned in life are the key to being successful in business. The book's goal is to share those principles with his readers.
Total Life Changes is a network marketing company that distributes health and wellness products, including dietary supplements, weight management support, essential oils, and skincare creams. TLC's most-successful product, Iaso Tea, promotes a healthy appetite while providing the body a gentle digestive cleanse.
Recently, TLC has entered the growing CBD market by providing several enhanced products, including CBD-enriched dietary supplements and Iaso® Tea.
The core of TLC's business is the Independent Business Owners who partner with the company to distribute the products. Currently, there are more than 200,000 people in more than 150 countries promoting TLC's products.
Believe in More tracks the history of Total Life Changes along the often-perilous road that any new business must follow. The key to the company's success, Fallon writes, is the establishment of clear goals and mindsets that everyone in the organization shares. The book describes TLC's leadership team as a family, drawn from the people in Fallon's life. Working with people who have the same commitment to doing the right things well is essential for every organization's success.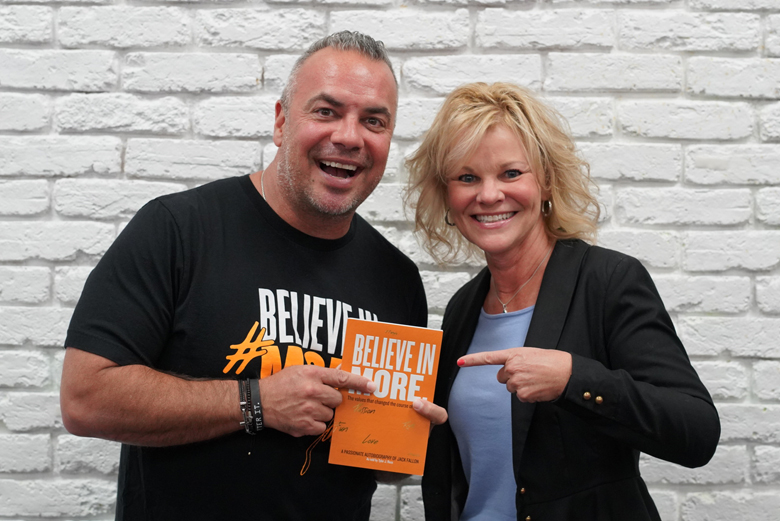 Fallon describes the calculated risks behind his business decisions and attributes his success to the belief that trusting yourself, adhering to your vision, and working hard will achieve success. The challenges, he writes, including during times of financial hardship, served to fuel his entrepreneurial spirit.
One analogy Fallon uses in Believe in More to describe his efforts alludes to the time people spend walking on treadmills. We can choose to walk slowly across a flat surface, or we can be more ambitious. He writes, "We have choices; we can choose to casually walk through life or challenge ourselves to run a race filled with hills and valleys."
The center of his motivation, Fallon explains, is what he describes as "an addiction." Helping others is in his DNA. This concept of helping people be better is wrapped-up in everything the company does. In one telling sequence, Fallon describes naming his company. Alone during a quiet moment in his basement, Fallon sketched out some key beliefs that would continue to drive the company: that his company could change the lives of his customers and the people who put confidence in him by choosing to give him their time. Together, they could all change lives.
Fallon's memoir describes the evolution of the core values that now drive Total Life Changes. Taken from the lessons, Fallon has learned through his life and the wisdom of the people who have mentored and influenced him, these core values include being grateful, loving one another, doing what's right even if it isn't always easy, letting passion fuel you, and always giving more than what's expected.
The book explains how important people are to TLC's CEO by stressing the interpersonal connection he makes with everyone within his organization. It wasn't always perfect; at one point, a man Fallon calls "Mr. Merchant Mafia" offered something that seemed too good to be true. And it was. Instead of being defeated, however, Fallon used the situation as motivation. Through this experience, he learns, "for every person I meet in life, there is a purpose. It may not be evident at the time, but it will eventually become clear."
The book describes the company's corporate employees and its Independent Business Partners, who Fallon calls Life Changers, as "loud, lively, and unstoppable," traits obviously conveyed by Fallon throughout Believe in More. He explains the pride he has in his team by writing, "Our TLC battle cry is that no one can take better care of you or treat you better than we do. We put in a lot of hours and work hard every day to make sure our families feel loved, our customers are healthier, and our employees are appreciated."
Believe in More is about the faith Fallon has in God, his family, and his commitment to supporting people achieving their dreams. It's a roadmap for everyone who is looking for an opportunity for growth. The book ends with a challenge: "What will you do to make an impact on the world? Will you start by giving more than what's expected?"
Believe in More is available at BelieveInMore.com
About Total Life Changes
Total Life Changes (TLC) is a direct selling company offering a diverse product portfolio of health and wellness products. Founder and Chief Vision Officer Jack Fallon created TLC 17 years ago with a single product: NutraBurst®. Since that time, TLC has continued to develop weight loss and wellness products matched with an attractive hybrid binary compensation plan.
This allows Life Changers of TLC to be rewarded quickly for introducing new customers to its products and business opportunity. Find out why so many are saying, 'It really is different over here.' For more information, please visit www.totallifechanges.com
Recommended Distributors Total Life Changes