Total Life Changes Creates Holiday Cheer and Hope With Tree Lighting
December 19, 2020
By Nicole Dunkley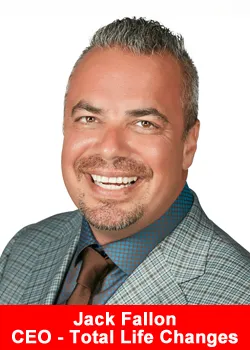 The reason for the holiday season is to give without expecting anything in return. And Total Life Changes (TLC) embodied this with their positivity and energy during their First Annual Tree Lighting. The winter scene unfolds on the TLC headquarters stage with CVO Jack Fallon and COO John Licari speaking about the meaning of this event:
"I can't wait until we light that tree, which is going to be a symbol of hope for people all around the world. It has been a really rough year for a lot of people. But 2021 is right around the corner, and things are looking bright!"
The giant 45-foot tree glimmered with bright lights and holiday cheer, and DJ Adrenaline emceed some jolly jams to get the crowd in the spirit. Customer service employees Joshua Aguilar, Lily Dickinson, and Tiana Reed sang their hearts out on stage. They impressed the audience with their vocal talents.
TLC made the event heartwarming by sponsoring a local seven-year old boy with special needs named Benny Freeman, whose story was discovered by Director of Public Relations, Craig Cole. Craig was scrolling on Facebook when he came across a story about a mother, Jamie Freeman, who couldn't find adaptable swings for her son to enjoy in public parks. Her son Benny has autism, down syndrome, and leg braces; it's been challenging for Jamie to use the typical swings found in parks. Craig recalls this family's story and how he took action:
"I recalled reading Jamie's post weeks earlier, and this story continued to cross my mind, and I knew TLC had to do something. So, a few weeks ago, I couldn't sleep, and again Jamie's post was on my mind, and it was so deep in my heart that I had to do something, and I had to reach out to them. And after an hour search, I came across Jamie's post again, and that made me want to put this event together."
Jamie speaks about why this means so much to her and the challenges she has faced this year:
"This swing is one of the only things that give Benny pleasure because all of his special needs services got taken from him, and his school, everything else. Being able to bring him to the park and see the smile on his face is the only thing that has gotten us through this year. This initiative will make it easier for other families with special needs children and us to enjoy this. It's a bigger issue than you think."
TLC created a unique fundraiser just for Benny. Charity ornaments were available to purchase for $20. Those ornaments were displayed on the TLC tree as a token of gratitude. TLC raised over $12,500 toward the purchase of adaptive swings for local parks, which will truly make a difference in Benny's life and the lives of other families whose children have special needs.
John Licari wraps up the tree lighting by speaking from his heart and expresses how much this event means to him:
"So many people are here tonight that have never been here before. Someone inspired them to be here tonight. What we need in this world right now is inspiration and hope. When Jack counts us down, and that tree turns on, what you'll see is not just lights. You will see hope for a brighter future, you see proof that the human spirit is alive and well, and you will know in your heart that 2021 is going to be an amazing year for all of us."
About Total Life Changes
Total Life Changes (TLC) is a direct selling company offering a diverse product portfolio of health and wellness products. Founder and Chief Vision Officer Jack Fallon created TLC 17 years ago with a single product: NutraBurst®. Since that time, TLC has continued to develop weight loss and wellness products matched with an attractive hybrid binary compensation plan.
This allows Life Changers of TLC to be rewarded quickly for introducing new customers to its products and business opportunity. Find out why so many are saying, 'It really is different over here.' For more information, please visit www.totallifechanges.com
Recommended Distributors Total Life Changes