Ileana Simplicean Joins the TLC Team
February 1, 2021
By Nicole Dunkley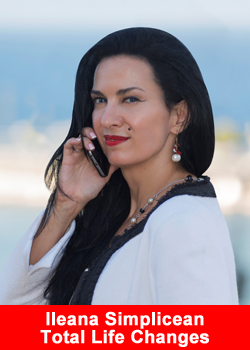 Total Life Changes (TLC) is continuously looking to expand its corporate team and global markets. That includes reaching a higher level of legal compliance and finding the right person to offer legal guidance and work interdependently with different departments to minimize risk globally.
Having worked internationally with many years of experience under her belt, Ileana Simplicean sealed the deal with TLC and now serves as their General Counsel. She is responsible for all legal and regulatory affairs globally, and her multilingual background allows her to relate to local markets with ease.
Although Ileana grew up in Michigan, she spent most of her career abroad as an attorney. She was educated in the U.S. and France and has a joint B.A. from the University of Michigan and the University of Nice, France, and a joint J.D. degree from the University of Pittsburgh and the University of Paris 1 (Sorbonne), France. She is admitted to the New York Bar and Paris Bar.
She has worked on three continents (Europe, North America, and Asia) and was based primarily in Paris, France. After starting her legal career at Paul Weiss, she held executive positions of increasing responsibility at publicly listed multinationals, as Senior Corporate Counsel at Delphi and then General Counsel at Nexteer. Most recently, she spearheaded an entrepreneurial legal venture in Europe called Ilenomia Legal.
With all of her past experiences as a backdrop for success, she says TLC was the best choice for her career path:
"The fact that TLC operates internationally drew me in. I recently moved back to the U.S. for personal reasons, and TLC came to me with perfect timing. I am a health, wellness and fitness buff who is endeavoring to balance personal and career goals. When I discovered that TLC's products aim to help people reach those goals, I was very excited about the opportunity to join the TLC team! It was a perfect fit."
Ileana aims to create and manage a legal department that will service all 150 countries where TLC operates to ensure compliance and streamline legal processes globally. She plans to achieve these goals by hiring a highly motivated and talented core in-house legal team, supplemented by a worldwide network of law firms.
She says that TLC's exceptional corporate culture sets them apart from her past experiences:
"The culture here is very high spirited, and it is exemplified in all different ways. I love the high energy environment, the motivated teamwork and the products."
While Ileana says TLC embodies all of its core values, the ones which she believes are the drivers of TLC's success are: "passion is our fuel" and "we don't do what's easy, we do what's right"!
Ileana aims to bring TLC to another level. She plans to help them expand to more global markets (it will be a surprise—stay tuned!) and be a shining example to other network marketing companies:
"I want to help make TLC the poster child among direct selling companies in the health and wellness sphere, in terms of corporate compliance and amazing products that everyone wants to use and feel. As an additional perk, it's just the best place to work. Bottom line, TLC changes lives for the better!"
About Total Life Changes
Total Life Changes (TLC) is a direct selling company offering a diverse product portfolio of health and wellness products. Founder and Chief Vision Officer Jack Fallon created TLC 17 years ago with a single product: NutraBurst®. Since that time, TLC has continued to develop weight loss and wellness products matched with an attractive hybrid binary compensation plan.
This allows Life Changers of TLC to be rewarded quickly for introducing new customers to its products and business opportunity. Find out why so many are saying, 'It really is different over here.' For more information, please visit www.totallifechanges.com
Recommended Distributors Total Life Changes