Mind Body Spirit Event Brings Balance to Life Changers
February 16, 2021
By Nicole Dunkley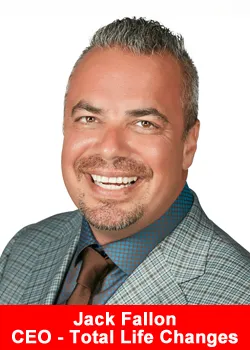 Total Life Changes (TLC) always brings a unique energy and passion to their tours and 2021 is no exception. This energy comes from the collective minds of the staff and Life Changers. And this mind cannot thrive without balance from the other elements, body and spirit. TLC brought all three elements together for a harmonious experience with their first Mind Body Spirit Event.
Jack Fallon greets his TLC audience and summarizes the aim of this tour:
"What I want you guys to realize is that yes, TLC does a tour every year, and we do events on a monthly basis. But this is something special this year. Our goal around the world, in every language and every gender, is very simple. We want to get into your Mind, Body and Spirit and help you create a balanced life. This starts today!"
Guest speaker and entrepreneur Tiffaney Malott gives her approach to leadership within network marketing. She mentions her humble beginnings as a factory worker and was influenced by someone more successful than her. Inspired, Tiffaney completely changed her career path. Her simple three-step process includes: leading yourself through your mindset and activities (learn), lead your recruits based on what you have done (learn to teach), and lead those people's recruits next (teach to teach).
Transformation contest winner Chavon Pulley truly was able to change her lifestyle and use TLC's products as leverage to push her progress even further. She also became a Life Changer, which allowed her to take care of her three children and her disabled father, who needs round the clock care. The core values have been integral to her life even before she knew about TLC:
"I get this kind of inspiration from my amazing dad. He always said give more than you expect to get back. You constantly give more because it's going to come back to you. I'm getting my blessings because I constantly give to him."
For this event, TLC's sponsored charity was Anchor Bay Foster Closet to provide clothing and other needs to foster children transitioning into their permanent homes. TLC matched donations given by event attendees, which totaled over $1500 and gave 300 bags full of supplies for toddlers and teenagers.
Mike McClean returns to TLC for another event and gives his take on essential oils and how we can honor mother nature by using them:
"There is nothing that fires me up more than knowing I'm going to have the privilege to teach people how to reunite mother nature with mankind. When we stop and think, what is the foundation of all modern-day pharmacology? What is the foundation of homeopathic medicine? All of these elements are found in plants."
The ring ceremony on Sunday was the first of its kind. TLC adapted to the change of the last year and had their first virtual ring ceremony. CCO Scott Bania describes what these rings truly symbolize:
"Whether you have been here for six years or six months, you've put in the blood, sweat and tears. You have faced many obstacles, and this is your day. We're going to honor you and celebrate your recognition. We'll give you the time you deserve to acknowledge everything you've put into your business. And your ring symbolizes your belief in us as a company and your belief in your organization."
Jack concludes the event by expressing excitement for future events:
"We truly cannot wait to do a live event with you. You're so much fun; we love your energy. We look forward to that, but please continue to share that TLC energy. We want the world to be a part of it and give balance to as many people as possible. And we can't wait to be a part of your journey."
About Total Life Changes
Total Life Changes (TLC) is a direct selling company offering a diverse product portfolio of health and wellness products. Founder and Chief Vision Officer Jack Fallon created TLC 17 years ago with a single product: NutraBurst®. Since that time, TLC has continued to develop weight loss and wellness products matched with an attractive hybrid binary compensation plan.
This allows Life Changers of TLC to be rewarded quickly for introducing new customers to its products and business opportunity. Find out why so many are saying, 'It really is different over here.' For more information, please visit www.totallifechanges.com
Recommended Distributors Total Life Changes