Sara Hoffman Welcomed as Health and Wellness Coach
March 11, 2021
By Nicole Dunkley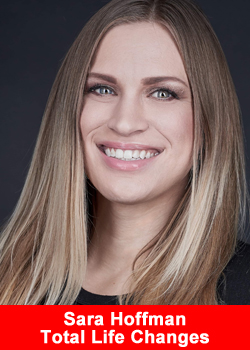 Total Life Changes is always looking to improve its offerings to customers and Life Changers alike. Looking for a subject expert to provide wellness and health advice, as well as fitness, yoga and mindfulness was the next step in their journey.
Sara Hoffman was the perfect addition to the team. She has coordinated Zumba-thons, yoga events, wellness retreats, and implemented group fitness programs into local gyms. Sara even received her yoga training in Bali, Indonesia, where the very best instructors can learn in an authentic environment. Sara owns a website, Wellness with Sara where she offers yoga classes and health guidance, and hosts a program, High Vibe Health, which focuses on guiding vegans and vegetarians so they can get the most complete nutrition in their diets.
"My goal is to round out anyone's health routine. I want to always find the missing link in people's health journey and help to make that holistic experience available across the board."
Sara says that TLC's culture really drew her in, and from that moment, she knew this was the right place to be:
"I was really excited to join this fun culture that's full of passionate like-minded individuals who truly want to implement holistic health into their wellness-oriented business. These are people who truly want to make a difference."
She has joined the TLC lineup with her weekly Facebook broadcast, Mindful Mondays.
"The goal of Mindful Mondays is to help our community implement a yoga practice to help them access clarity of mind and learn even more benefits of meditation, other than just relaxing, like how to use it for creativity and productivity. Unplugging the thought stream can unleash creativity and get you out of a limited mindset. When we ritualize anything that's when you really start to see the benefits stacking up."
In the future, Sara wants to see the community at TLC benefit from her guidance and advice, and have the tools to make a lasting change:
"I want to see a movement towards having a group of people who have experienced the benefit of implementing wellness practices. Having that community grow and create a wave in the market. I want to showcase TLC as a good launching point for their wellness dreams. No matter who you are or where you're starting from, we can all unite and get started with getting a long-term benefit."
Her very favorite part of being a fitness and wellness coach is being able to inspire people to take the first step to change their emotional and physical wellness:
"It gives me an opportunity for people to see that change is truly possible for them. People tend to have limited beliefs about themselves and starting to make shifts in their routines is a way to have a more empowered standpoint. It's just energizing to me to give people back control over their lives and health and finding the root cause. For example, if we're using food to fill a hole where we're not satisfied in our lives. The power of health meditation and mindfulness, all of these things that make us feel good, naturally end up healing the root cause and making ourselves happier and healthier. I want to make holistic health and wellness accessible to all. Your health concerns are a gateway to a journey to help you embrace your optimal potential."
About Total Life Changes
Total Life Changes (TLC) is a direct selling company offering a diverse product portfolio of health and wellness products. Founder and Chief Vision Officer Jack Fallon created TLC 17 years ago with a single product: NutraBurst®. Since that time, TLC has continued to develop weight loss and wellness products matched with an attractive hybrid binary compensation plan.
This allows Life Changers of TLC to be rewarded quickly for introducing new customers to its products and business opportunity. Find out why so many are saying, 'It really is different over here.' For more information, please visit www.totallifechanges.com
Recommended Distributors Total Life Changes