Radio Host Spike Inspires CVO and COO of Total Life Changes
June 18, 2021
By Nicole Dunkley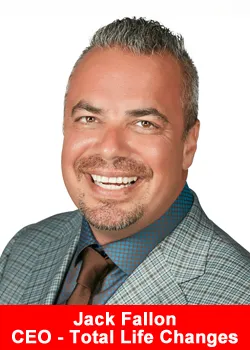 Reaching out to the local community is always a big part of Total Life Changes' (TLC) mission and purpose. From their tree lighting to benefit disabled children, to restaurant takeover events, to the teacher outreach program, they always try to offer everything they can to support others and make a long-term impact.
CVO Jack Fallon and COO John Licari headed to the Mojo In The Morning studio to record their podcast, The Hope Dealers, with co-host Spike. John opened by thanking Spike, saying Mojo in the Morning is more than just a radio show:
"We like to remind people all the time about what they're a part of. There's mom's taking their kids to school, people are driving to a job they don't like, and this is their 30 minutes of happiness. I think that goes unnoticed sometimes; people don't realize that you are part of someone's life."
Spike recalls the first time he was invited on the air, which happened all because he continued to hope for a future in radio:
"I was at the studio for four hours later than I should've been on a Friday, and someone called in sick, and the guy said, 'You know what, you're going on air this afternoon, your first time on the air.' And I'd been waiting for that my whole life."
Spike explains the most memorable moment of his career so far and describes the charity work that the company has done. They have partnered up with Wish Upon a Teen, which focuses on bringing disabled kids to a prom that they wouldn't otherwise experience:
"Nancy, the executive director, and her husband got involved with this group because of their daughter, whose name is Hope. She's someone who's never let any of her life challenges set her back."
Total Life Changes donated money to this Wish Upon a Teen because family is vital and a massive part of what they stand for as a company. Spike expressed his gratitude:
"It just shows that in people's hearts they want to help, but a lot of times they don't know-how. And you guys are creating the vehicle and making it easy for them, and that's what I love."
About Total Life Changes
Total Life Changes (TLC) is a direct selling company offering a diverse product portfolio of health and wellness products. Founder and Chief Vision Officer Jack Fallon created TLC 17 years ago with a single product: NutraBurst®. Since that time, TLC has continued to develop weight loss and wellness products matched with an attractive hybrid binary compensation plan.
This allows Life Changers of TLC to be rewarded quickly for introducing new customers to its products and business opportunity. Find out why so many are saying, 'It really is different over here.' For more information, please visit www.totallifechanges.com
Recommended Distributors Total Life Changes