Stormy Wellington 1st To Achieve Grand Ambassador Rank With Total Life Changes
July 14, 2021
By Nicole Dunkley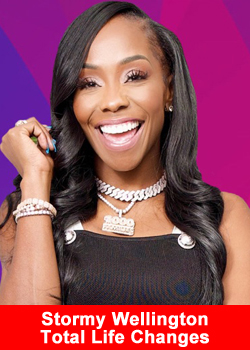 Two new exclusive ranks were announced by Total Life Changes (TLC) on June 28, 2021. The Grand Ambassador Rank includes increased weekly bonuses, a Branded Jeep Rubicon, and a custom diamond ring. The Elite Ambassador Rank (now the highest qualifying rank at TLC) includes increased weekly bonuses, a branded Tesla, and a custom diamond pendant.
"Our executive team has been planning to announce two new ranks for the past six months. We knew our salesforce of Life Changers were ready for the challenge, ready to write the next chapter in our company's relatively short history. And of course, all of us expected Stormy Wellington, one of the top female network marketers in the world, to reach Grand Ambassador relatively quickly; in fact, she qualified in less than one week of the announcement," explains John Licari, COO of Total Life Changes.
Stormy Wellington has faced challenges her entire life. Growing up in foster homes, dropping out of high school at the age of 13, and raising her first son at the young age of 15, she demonstrates that everyone can overcome obstacles with faith and perseverance.
After seven years as a Life Changer in Total Life Changes, she has developed the most extensive global organization, authored several books, and established Girl Hold My Hand Inc., an organization designed to help women worldwide become the greatest version of themselves. She believes that when you know who you authentically are and grow in your authenticity, there's absolutely nothing that you can't do and no one that you can't be.
On a Live with Jack and John broadcast on Facebook, the corporate team celebrated her rank advancement, and Stormy expressed her gratitude:
"I'm grateful; I'm grateful, for this company, for Jack (Fallon), for John (Licari), for my team, and Rosa (Gonzalez). We continue fighting a good fight, not just for us but for everybody. A lot of people started two or three years ago, and they don't know what we went through to become the company we are today."
Stormy continues to recap her journey passionately and reminds others of TLC's mission:
"This is just the beginning. Ana (Cantera) has always been someone that has been on me. She's the one that has always been pushing me. I'm telling every one of you that we are very blessed. TLC is the very best company … Right now, our company is shifting, and you can shift your life too. Don't sit back! We're breaking the records, were setting new standards, and we're raising the bar."
About Total Life Changes
Total Life Changes (TLC) is a direct selling company offering a diverse product portfolio of health and wellness products. Founder and Chief Vision Officer Jack Fallon created TLC 17 years ago with a single product: NutraBurst®. Since that time, TLC has continued to develop weight loss and wellness products matched with an attractive hybrid binary compensation plan allowing Life Changers of TLC to be rewarded quickly for introducing new customers to its products and business opportunity. Find out why so many are saying, 'It really is different over here.'  For more information, please visit www.totallifechanges.com
Recommended Distributors Total Life Changes