TLC's My Health Matters Challenge Brings Daily Value to Community
September 17, 2021
By Nicole Dunkley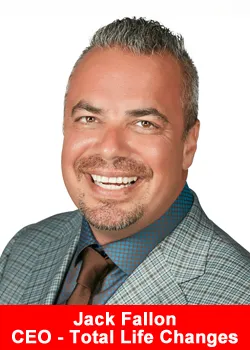 Total Life Changes (TLC) released the first day of its 5-day My Health Matters Challenge on September 13, 2021, at 8 PM EST. Each day of this challenge focuses on one aspect of your life that can be modified or improved, incorporating the mind, body and spirit. The topics include Release, Replace, Revive, Routine and Reflect. 
The first broadcast, Release, was hosted by John Licari, Trent Shelton and Stormy Wellington. John opens the broadcast by talking about why health should always be at the forefront of your life:
"What you're going to be exposed to and around for the next five days will transform you. My health matters because me and my wife Christina have two beautiful girls, and I would love to be present the day they get married, and I want to be in my grandkid's life. I want to learn and know everything that will give me a greater chance at being a part of those special moments."
He encourages anyone and everyone to start a health and wellness journey, no matter what age. John welcomes the next host, Stormy, to the broadcast, and she speaks about what it means to take care of yourself and encourage healthy behaviors:
"The truth is, we have all lost somebody from things that could have been prevented by us making better choices and taking better care of ourselves. These things could have been prevented by us making better choices and adopting better habits. Today is a very emotional day for me because after being a part of the health and wellness industry for over 12 years, the life I desired and how I wanted people to look at me have finally arrived. They are now calling me the fitness influencer." 

Stormy speaks about her mother's health conditions, how they affected her life and how she consequently passed away from them. She reminds the community that they must break the generational curse of bad family health and bad habits. 
Trent takes the virtual stage next, speaking about breathing life into your dreams and making them a reality:
"You are that one percent of the world that takes ownership of your life. I want to plant that seed even more. Whatever it is that you want, you're going to have to do it. And I want to tell you this: You are the person that has to water that seed. There will be plenty of seeds planted this week. My question to you is this: What's the reason why you have to? You HAVE TO take better care of your life."
There will be four more days of enriching content hosted on the My Health Matters Challenge Facebook Group. If you are interested in learning more about this 5-day challenge, click here. 
About Total Life Changes
Total Life Changes (TLC) is a direct selling company offering a diverse product portfolio of health and wellness products. Founder and Chief Vision Officer Jack Fallon created TLC 17 years ago with a single product: NutraBurst®. Since that time, TLC has continued to develop weight loss and wellness products matched with an attractive hybrid binary compensation plan allowing Life Changers of TLC to be rewarded quickly for introducing new customers to its products and business opportunity. Find out why so many are saying, 'It really is different over here.' For more information, please visit www.totallifechanges.com
Recommended Distributors Total Life Changes