Network Marketing Professionals Jeffrey & Rashayna Miller Join Dream Trips
December 9, 2022
By Team Business For Home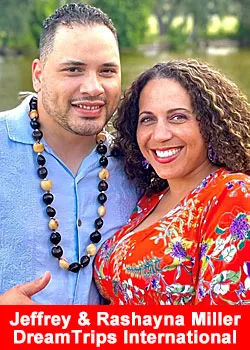 DreamTrips International (DTI) Jeffrey & Rashayna Miller help others place a higher value on time.
It was network marketing that introduced Jeffrey and Rashayna Miller. He was a GED kid; she a college grad; both learning valuable lessons as they simultaneously navigated careers elsewhere.
Jeffrey was a successful bodyguard and eventually a vice president of a company, while Rashayna climbed the corporate ladder in tech. But both craved more time with their four kids and each other.
Network marketing was the only viable industry to give them the lifestyle they sought—a way to work careers around their busy lives, all while creating better options for their family's future.
Together, through network marketing, the Millers have built a successful, global business conveying relatable leadership that focuses on the encouragement of others.
Drawn by the all-encompassing opportunity that travel provides to people from all nations, the Millers joined DreamTrips International to provide ready access to incredible places around the world, as well as a method for everyday people to earn lucrative incomes.
"We are a stand-alone company because there is not another company out there that has the infrastructure, the systems, the compensation plan or the global network of hosts that DreamTrips international has,"
the Millers say.
With DTI, people have bigger options. They can travel, work full- or part-time, earn, while they gain new perspectives on life at the same time.
"The world is changing, and we are seeing more people place a higher value on their time. People want to start living life on their terms and want to start experiencing the world now, rather than wait for the future,"
the Millers say.
Their family is no exception to this societal change, and DreamTrips is giving them the ability to check off that Bucket List faster, dream bigger and create more memorable experiences with their children. That is priceless.
"Our family is dreaming more, and our kids are looking forward to taking the next trip, rather than purchasing the newest toy—that is such a blessing." 
About DreamTrips International
DreamTrips International, LLC is a privately held company based in Frisco, Texas. DreamTrips International is the #1 direct seller of global travel and lifestyle club memberships. More than 1.3 million travelers have experienced the one-of-a-kind, specially curated experiences known as DreamTrips. For more information please visit DreamTrips.com
Recommended Distributors DreamTrips International