Duolife Launches Softmarketing® – Putting The Person First
March 29, 2023
By Team Business For Home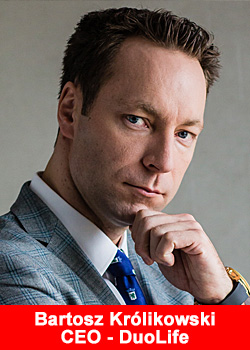 The business world is constantly evolving and changing for the better, but many people still associate it with fierce and sometimes ruthless competition. However, there is the option of running a business with respect for ethical principles and the needs of the individual. This is made possible by softmarketing® with its idea of "Putting the person first".
 Softmarketing® – the 21st century business model
Years ago, Robert D. Hof wrote in Business Week that:
"Everything we thought we knew about business seems questionable".
It is hard to disagree with these words. The economy is constantly changing and becoming increasingly dynamic. It is influenced by technological advancements, which have caused boundaries to blur. The world has become a global village – we use the same currencies, follow the same rules, we can keep in touch with each other wherever we are.
But it is also people who have changed. In the 21st century, we are becoming increasingly aware – we take care of our health, we want a sense of security and permanent, stable employment. Studies show that employees change their workplace every 4-5 years, and their profession every 7 years. This shows that nowadays there is no place for jobs or businesses that feel temporary in nature and do not respect employees or business partners.
These changes are posing new challenges to entrepreneurs, and the term "competition" is taking on a new meaning. Currently, the focus is on creating new opportunities to approach business on an individual level, taking into account the appropriate level of income, work-life balance, a healthy lifestyle and mental well-being, as well as long-term stability and a sense of security. The solution is softmarketing® – the 21st and even 22nd century business model.
The softmarketing® model has been practiced by DuoLife for years. It was developed by Norbert Janeczek – Co-Founder and Chairman of the Supervisory Board of DuoLife S.A. and Joanna Gdaniec – one of the leading personal development coaches in Poland.
This concept combines the best practices from classic, corporate and franchise business models, as well as multi-level marketing. It meets the requirements of a dynamically changing market and provides an alternative for entrepreneurs and full-time employees who are looking for positive changes that generate real benefits. 
Focus on the person
The idea of "Putting the person first" is one of the most important pillars of softmarketing®. This innovative approach to business that we have implemented in DuoLife focuses on the goals and dreams of the individual. The person is therefore valuable, not a means to generate high revenues. Without happiness and respect for human needs, there can be no ethical and competitive (in the positive sense of the word) business.
Softmarketing® gives you freedom – you decide how you operate, on what scale, and what goals you want to achieve. Such an approach gives a lot of space for self-actualization and improvement of skills.
However, a high level of freedom and autonomy does not mean that we simply leave people to themselves. DuoLife brings together leading experts and businesspeople. They provide guidelines for learners and new practitioners of softmarketing®. This ensures that development in line with this innovative idea runs smoothly and allows you to achieve new levels of self-actualization.
Development above all!
The need for self-actualization is at the top of Maslow's pyramid. Softmarketing® not only allows full self-actualization but also provides substantive and psychological support. Softmarketing® enables everyone to grow – regardless of their age, material status or business experience. The inclusive nature of this idea provides an opportunity for development for millions of people around the world and allows us to secure a stable and happy future for every inhabitant of our planet.
DuoLife also provides the necessary tools to help people develop. One of them is Virtual Presenter – a platform adapted to the requirements of 21st century business. It allows you to work online from anywhere in the world.
The goal of softmarketing® is the continuous growth and self-development of the individual. It enables people to fulfill their biggest dreams, be happy and at the same time build a stable, ethical and profitable business, becoming an example and role model for others.
 Softmarketing® – how does it work?
We mentioned earlier that softmarketing® combines the best practices from classic, corporate and franchise business models, as well as multi-level marketing, focusing on their strongest points. What does this mean in practice? This model is extremely adaptable to the changes required in our dynamic world. It allows you to build a business from scratch, as well as to expand or improve an existing one.
Even if you are taking your first steps in the business world, you don't have to invest a lot of money, have an experienced team or know all the secrets of business. In the softmarketing® model, you decide whether to make it your primary or additional source of income.
The place where you can learn exactly what the idea of softmarketing® is all about is softmarketing® LeadersCamp Online. This is a training event featuring top experts in business and personal development. During softmarketing® LeadersCamp Online, speakers show what the softmarketing® model is all about in practice and how to run a business based on its principles. It is also a great place for future sales leaders.
To conclude, flexibility and an innovative approach to business mean that softmarketing® allows you to adapt very quickly to changes and the world around you. The only thing you need at the beginning of your adventure is motivation and a success-oriented attitude. Our experts will provide you with the necessary support and the tools that will help you run your business from anywhere in the world. Do you want to change your life for the better right now?
About DuoLife
DuoLife is a joint-stock company founded in Poland in 2013, operating globally on 52 markets and territories, based on the proprietary softmarketing® business model. DuoLife Club members operate all over the world, and the company's products are shipped not only to European, but also Asian, North and South American countries.
The company owns two factories, where under the watchful eye of the Research and Development Department and the Scientific Council, new products lines are being created. One of them produces supplements in liquid and capsule form, the other works on cosmetics.The uniqueness of DuoLife products is based on the ingredients of the highest quality. The performance of many of them has been confirmed by numerous clinical trials. The DuoLife product portfolio contains over 70 products.
Currently, the company is getting ready to enter the Stock Exchange, and in its development plans for 2020-2025, it foresees the opening of new markets and its turnover increase in Europe, Asia and North America. For more information please visit www.myduolife.com
Recommended Distributors DUOLIFE