DreamTrips International Launches Asia Pacific Market
June 14, 2023
By Nicole Dunkley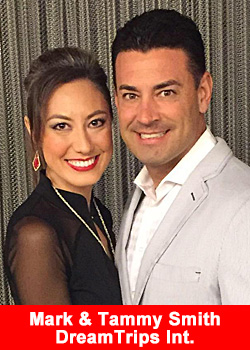 After months of pre-launch work and the recent lift of travel restrictions to Hong Kong, DreamTrips International launched their business in the Asia-Pacific region in May.
During the event, CEO Mark Smith and Chief Field Officer Tammy Smith introduced senior leadership heading up expansion plans and met with local field leadership growing the DreamTrips brand in the region. 
After the meetings the Smiths' joined the leaders and others on the first DreamTrip in the region since restrictions were lifted.  
"Tammy and I traveled to Hong Kong to meet our top field leaders face-to-face and shake hands with the people who are building the DreamTrips International brand in Asia.

We were so happy to share our vision for the company with them and strategized together about DTI expansion throughout the region,"
DTI CEO Mark Smith said.
"Our market is rapidly expanding, and ranks are exploding in that region.

To gear up for the skyrocketing travel demand that's taking place all over Asia, we are adding an average of 20 new DreamTrips every month to our travel catalog to meet consumer needs,"
Smith said.
Sam Lau has been earmarked to lead DTI's Asia Pacific expansion efforts as general manager. Lau brings a wealth of experience in both the network marketing and travel industries and has been an integral part of DreamTrips immediate success in the market he oversees.  
"We are just so excited about everything that's happening there!"
Smith said.
About DreamTrips International
DreamTrips International, LLC is a privately held company based in Frisco, Texas. DreamTrips International is the #1 direct seller of global travel and lifestyle club memberships. More than 1.3 million travelers have experienced the one-of-a-kind, specially curated experiences known as DreamTrips.
Recommended Distributors DreamTrips International