Marco Passanante Celebrates 7 Years With Zinzino
August 22, 2023
By Team Business For Home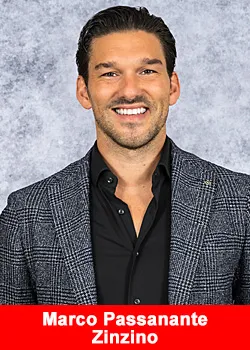 Marco Passanante, a well-known industry leader, has been full-time in the world of Direct sales and Network marketing for almost 15 years.
Throughout these years, Marco has consistently performed and delivered great results. His consistency, leadership, and the ability to drive significant impact for the people around him have positioned him as a highly respected industry leader.
Renowned for his heartfelt approach and a desire to help others to believe in their dreams, Marco works alongside individuals, supporting them in a personal growth journey to achieve their aspirations.
As we step into August 2023, Marco celebrates 7 years with Zinzino. Over the span of these seven years, Marco, alongside his team, has brought in over 100,000 customers.

Marco was also honored with the distinguished "Heart of Zinzino" award at the company's latest annual event.
The "Heart of Zinzino" award is a symbol of deep respect, gratitude, and admiration for a leader who embodies the core values and spirit of Zinzino. Marco Passanante, without a doubt, fits this description seamlessly. His journey with the company has been characterized by heartdriven passion, dedication, and an exceptional hunger to help others to win and grow.
In the words of Zinzino:
"This year's winner is a passionate and valuable global leader with a significant impact on Zinzino, a leader whose energy and inspiration are contagious both on stage and in real life.

Helping others find their belief in themselves and the strength to follow their dreams is at the center of our winner's heart. Our winner has successfully built flourishing teams in many markets around the world, and this is only the beginning."
Marco strongly believes that Zinzino with its strong customer focus will be a multiple billion dollar company and he will keep helping people grow individually as well as getting their health in balance.
About Zinzino
Zinzino AB (publ.) is a global Direct Sales company that markets and sells test-based nutrition, skincare and life-style products. Zinzino owns the research unit BioActive Foods AS and production unit Faun Pharma AS.
Zinzino is based in Gothenburg, with additional offices in Finland, Latvia, Norway, USA, Australia, Hong Kong and Malaysia. Zinzino is a public company and its shares are listed on Nasdaq First North Premier Growth Market. For more informaton please visit www.zinzino.com
Recommended Distributors Zinzino