Ahmad Nofal Achieves Presidential Ambassador Rank At iGenius
September 29, 2023
By Team Business For Home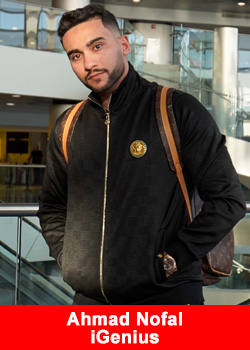 Ahmad Nofal, is a twenty-eight-year-old Palestinian who currently lives in San Diego, California. When Ahmad was eighteen years old he moved from Saudi Arabia to America. He was an international student who studied mechanical engineering in Fresno, Ca. He also worked several jobs so he could support himself and his family back home.
Ahmad was introduced to network marketing through a friend when he was twenty-three years old. Ahmad noticed his friends' social media presence and shift in lifestyle, and he knew he wanted to be involved. He said,
"In 2018 the financial services and trading were the new hot thing in the market and I wanted to get involved because of the upside potential and freedom. Initially, I started with iGenius because of the trust that I had with my up-line at the time.

However, my decision to partner up with iGenius became stronger by time due to its transparency, cutting edge technology and services, diversity of customers, and the powerful compensation plan. "
Also, the corporate staff are extremely friendly and understand the needs of the field leaders. The continuous support and improvement of the company makes it so easy to feel comfortable working with iGenius. iGenius also gives me and my customers the utmost peace of mind knowing that they are operating in a legal and compliant way because they are regulated by the SEC and have an A+ rating with the BBB."
Ahmad feels fortunate that he gets to call iGenius his one and only home. He's worked extremely hard to get himself in the position he is today. After a lot of grit, commitment, rejection, and perseverance, Ahmad recently achieved the rank of Presidential Ambassador. He said,
"Failures and continuous knockdowns are my best friends in my career. I developed immunity to rejections and understood that I was one person away from having a successful business.

It took me a long time to see my first payday due to my initial lack of skill sets, but I read the books, sought out the information, and listened to my mentors. All of those things helped me find my tribe and lead me to multiple breakthroughs." 
Ahmad believes there is a fine balance between finding and relying on great mentors, and also understanding that your success is fully dependent on yourself. He explained,
"Mentors are like a cheat code that you can have full access to only if you prove yourself through your right attitude, high activity levels, and serving the team with no expectations. These factors helped me build a name for myself and get on company stages to share my ideas and training." 
Ahmad's next goal is to make sure his team uses and understands the financial literacy that iGenius provides through its various products and services.
He is also striving to get his company to new heights by expanding into various markets on a yearly basis. Ahmad is extremely grateful for the iGenius platform and how it has changed both his and his family's lives. He believes it's now time to pay it forward on a massive scale.
About iGenius
iGenius helps members amplify their quality of life by providing leading edge financial tools, education, and opportunities. iGenius can help you take control of your future and start living brilliantly. For more information about iGenius, visit: www.igeniusglobal.com.
iGenius LLC is a wholly owned subsidiary of Investview Inc., (OTCQB:INVU), a public company. For more information on Investview and the ability to participate in Investview's growth, please visit investview.com or email [email protected].
Recommended Distributors iGenius