New DreamTrips+ Educational Platform Enhances DTI's Luxurious Travel Brand
September 9, 2023
By Nicole Dunkley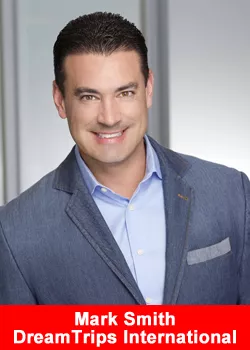 DreamTrips International takes dream-tripping a step beyond the luxurious, bucket-list excursions they are known for with this month's addition of a new, educational platform called DreamTrips+.
DreamTrips+ is a dynamic, educational platform that delivers instruction on personal development, leadership, and holistic well-being, as well as financial literacy and trading.
It is available as an add-on to all DreamTrips Standard and Priority members, and offers DreamTrippers the ability to travel and transform their lives and career trajectories through knowledge, while experiencing some of the most exotic and amazing locales on the planet. 
"By adding DreamTrips+ to a DreamTrips Standard or Priority membership, you not only escape the mundane of regular life by soaking up celebrity-style vacations, but also take a deep dive into the kinds of learning that can make it possible to say goodbye to the hum-drum lifestyle altogether,"
DTI CEO Mark Smith said.
DTI has also created a new brand of DreamTrip, called Transformation Trips that are available exclusively with a monthly DreamTrips+ subscription. Transformation Trips offer self-development and self-awareness seminars hosted and led by some of the best personal development speakers, industry leaders, top DreamTrips leaders and company executives. The first Transformation Trip embarks in December.
The DreamTrips+ enhancement to DTI's offerings spurred the company to create new Travel & Transform Packs for people interested in maximizing their experience. The Travel & Transform Pack includes a full-year Priority membership; a full-year subscription to the DreamTrips+ educational platform; exclusive access to Transformation Trips; 10,000 Loyalty Points for immediate use; a cruise-for-two voucher redeemable after 30 days of membership; and one year of IBO fees.
"For years, DreamTrips have been helping people learn more about the world outside their own neighborhoods through travel.

Now with the addition of DreamTrips+, DTI has the privilege of helping our DreamTrips family explore new areas of thought and acquire skill sets that they can take back home and implement in their lives.

This is an incredibly exciting, value-added opportunity for anyone affiliated with our company!"
Smith said.
About DreamTrips+:
DreamTrips+ educational portal costs $79.99/month and is available to add to Standard and Priority DreamTrips memberships. It is also included with the purchase of a Travel & Transform Pack.
About DreamTrips International:
DreamTrips International, LLC is a privately held company based in Frisco, Texas. DreamTrips International is the #1 direct seller of global travel and lifestyle club memberships. More than 1.3 million travelers have experienced the one-of-a-kind, specially curated experiences known as DreamTrips.
Recommended Distributors DreamTrips International