One More International A Comprehensive Analysis Of The Opportunity
September 27, 2023
By Team Business For Home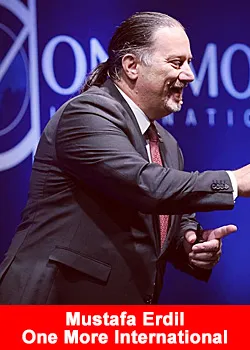 One More International is a group of Network Marketing companies founded in Turkey, Istanbul, and selling wellness products produced with TTS technology to the world. It aims to be the right platform for professionals who want to establish a global Network Marketing organization.
One More International, which has been in a steady growth trend since 2014, wants to further increase its global growth rate with Vision Day 7. Today, One More International trades with 107 countries of the world.
In 2022, their revenue reached an impressive $62 million and it is estimated that around 60% of this could have been distributed as commission. While joining may inspire individuals, it is important to note that no promises or guarantees can be made.
One More International in Facts and Figures
One More International, led by CEO Alper Volkan Karpuz, is a notable company in the network marketing industry and based in Turkey. In 2022, the company made impressive strides, reflected by a total revenue of $62 million. This was an increase of 417% compared to the previous year. Of this revenue, $37 million could have been paid out as commission, with the company payout plan ultimately distributing 60% of this potential amount.
The company's performance has warranted recognition, garnering a top rank "AAA+" rating from Business for Home.
In context to worldwide network marketing companies in the Business for Home database, One More International holds a respectable position at the rank of 21. The company remains popular with a total of 11,498 pageviews on its Business for Home page. The company is recommended by two distributers according to reviews.
2022 revenue: $62 million
Revenue increase from 2021: 417%
Possible commission pay-out in 2022: $37 million
Compensation plan paid out 60% of possible commission
Business for Home Rating: AAA+ (Top rank)
Number of Top Earners: 46
Current Business for Home Momentum Rank: 21 of 900+
Number of Recommended Distributors: 2
Business for Home pageviews: 11,498
CEO: Alper Volkan Karpuz
Company location: Turkey
Companies in 19 countries around the world
Operations in 107 countries of the world
Data provide by the proprietary Business for Home Intelligence Engine
Building a Network Marketing Business with One More International in 2023
1. Research The Opportunity
Before diving into any business opportunity, it's crucial to adequately research the company and the market. One such company that offers great potential is One More International. This network marketing company is renowned for its excellent products and well-structured compensation plan.
We strongly recommend using the Business for Home website for your research work. This site provides invaluable insights about various network marketing companies, including user reviews and company rankings. The information it provides can help you understand the company better and make informed decisions.
2. Read The One More International Articles
3. Understanding The Reviews
Reviews are a goldmine when deciding whether to join a network marketing company. They give you insights from people who have had firsthand experience with the company. You can access the One More International review page to read reviews from distributors and users.
It's important to pay attention to both the positive and negative reviews to understand the challenges and rewards that come with the opportunity. Remember, every business has its challenges, and network marketing is no exception. The key is to determine whether you are ready and capable of overcoming these challenges.
4. Analyze The Company's Ranking
Company rankings are another essential factor to consider when choosing a network marketing company. Rankings are usually determined by factors such as the company's performance, compensation plan, product quality, and the rate of distributor success.
For instance, Business for Home's company rank page can help you see how One More International ranks among other companies. This can give you a clearer idea of the company's stability and growth potential.
5. Join & Learn
Once you have carried out necessary research and are convinced that One More International is a good fit for you, you can proceed to join the company. Once joined, dedicate your time to learning about their products, Compensation plan, and sales strategies. Success in network marketing requires continuous learning and skills development, so take advantage of all the training resources the company offers.
Remember, success in network marketing doesn't come overnight. It requires diligence, patience, and hard work. Make use of all resources available to you to improve and grow your business.
You might want to team up with a One More International recommended distributor. You find them at the bottom of this article.
Here is what people are writing about One More International
Reviews regarding One More International vary, with some users expressing high satisfaction and others elaborating on their issues.
Azime Demirel is a brand representative and says that it's a privilege to work for One More International. She talks about being part of a family with the company, about touching lives in terms of wealth, and health, and the pleasure of sharing knowledge in a sincere way. She thanks the One More family for helping to eliminate her prejudices about the sector and giving her financial and spiritual freedom.
There's also high praises from Ömer Aldemir who has nothing but good words and gratitude to say about One More. He emphasized the magical effect the company had on his life and health through high-quality products and recommended this opportunity to everyone.
The majority of the 26 reviews for One More International are positive. Most reviewers showed appreciation and admiration for the company's high-quality products and other benefits. Many feel that the company has positively influenced their lives and their health, and express a sense of belonging and family within the community.
One More International Conclusion
One More International, a network marketing organization based in Turkey, has achieved impressive success in 2022 with a revenue of $62 Million. It is estimated that around 60% of this revenue, amounting to $37 million, could have been distributed as commissions. However, it is important to note that no promises or guarantees can be made regarding earnings.
The company, led by CEO Alper Volkan Karpuz, has received top recognition with a "AAA+" rating from Business for Home. It ranks 21 among more than 900 network marketing companies in the Business for Home database. With 11,498 pageviews on its Business for Home page and positive reviews from two distributors, One More International is undoubtedly a popular choice.
Considering the substantial revenue, high ranking, and positive reputation, it is likely that One More International offers decent earning prospects. However, individuals interested in joining should conduct thorough research and consider the potential risks and challenges associated with network marketing businesses.
Recommended Distributors One More International