Uncovering Greenway Global's Resilient Success And Distributor Opportunities
September 25, 2023
By Team Business For Home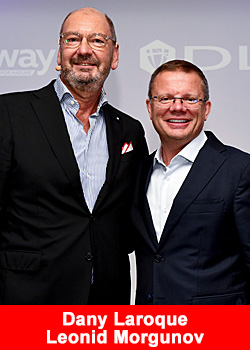 Greenway Global offers an exciting opportunity for individuals interested in exploring new income streams. With an impressive 2022 revenue of $265 million, it's evident that Greenway Global has successfully established itself in the market.
Greenway Global in Facts and Figures
In 2022, Greenway Global demonstrated steady performance with 14% growth in their annual revenue over 2021, amounting to $265 million. Despite the potential for $106 million in commission, the company's compensation plan paid out 40%.
Greenway Global, under the helm of CEO Leonid Morgunov with headquarters in Czech Republic, has been earmarked as an attractive opportunity with an AA+ rating on Business for Home. They are currently ranked at number 52 among 900+ worldwide network marketing companies listed on the BFH database.
Company's revenue in 2022: $265 million.
Revenue difference with 2021: 14%
In 2022, $106 million commission could have been paid out
The compensation plan paid out: 40%
Business for Home Rating: AA+: An awesome opportunity.
Business for Home Momentum Rank: 52 out of 900+ companies.
Number of Recommended Distributors: 2
Business for Home pageviews: 11,520
CEO of Greenway Global: Leonid Morgunov.
Over 2 million partners worldwide
53 countries of operation
200 eco-markets today
550+ products for health, beauty, and home care.
The company is located in Czech Republic.
Data provide by the proprietary Business for Home Intelligence Engine
Building a possible Network Marketing Business with Greenway Global in 2023
1. Research your Network Marketing Company
As an entrepreneur looking to leap into the world of network marketing, your first step is conducting in-depth research about your desired company. For instance, if you're planning to meld with Greenway Global, you should visit the Greenway Global company page, under the valuable Business for Home website. Here, you will find detailed insights on the company's history, core values, distinct product lines, and overall performance.
2. Review the Company's Ratings and Reviews
Before finalizing your decision, check out the company's ratings and reviews. Always ensure that you are partnering with a credible and well-established network marketing company to avoid potential pitfalls down the road. The Greenway Global review page in the Business for Home website provides a unique platform where you can obtain reviews from independent distributors and customers.
3. Understand the Network Marketing Company's Ranking
A company's rank is an indicator of its performance in various domains such as compensation plan, product quality, customer satisfaction, and more. Business for Home provides an explanatory guide on Network Marketing Company rankings. Going by these ranks can help you make an informed decision while joining a network marketing company.
4. Make A Decision and Take The Leap
After thoroughly researching and reviewing the company, it is time to finalize your decision. Greenway Global, as shown from the reviews and rank, is a reliable yet thriving network marketing company that you can consider joining.
5. Begin With Orientation
Once you've decided to forge ahead with Greenway Global and have formally enrolled with them, ensure you undergo proper orientation. The orientation will equip you with invaluable knowledge about their products, marketing strategies, and compensation structure to help you effectively promote the brand.
6: Check our articles about Greenway Global
Here are a couple of articles about Greenway Global:
6. Wrapping Up
Getting started with a network marketing company like Greenway Global is a monumental decision. With the assistance of Business for Home in providing crucial company details, reviews, and rankings, you can make an enlightened choice and actuate a prosperous entrepreneurial journey.
You might want to team up with a Greenway Global recommended distributor. You find them at the bottom of this article.
Here's a glimpse of what people are writing about Greenway Global
Reviewers of Greenway Global seem to be quite pleased with the company and its offerings, according to multiple posts featured on Business for Home. One thing that stands out from their comments is the satisfaction derived from the company's eco-friendly products:
Rimma Kotlovskaya, for example, said,
"I was impressed with eco-friendly products that everyone needs for home, the visual result was in 1 minute. Anyone can afford to buy it."
Similarly, Galina Langlitz praises
"how Greenway Global products make everyday life easier while safeguarding the environment."
Furthermore, several reviews highlight the financial opportunities available through the company.
Katarina Hanakova claims:
"The company has the most generous marketing plan I have ever seen,"
 Petra Sámelová also speaks positively of
"Greenway's marketing plan and adds that it offers substantial funds for anyone who joins."
The reviewers also seem to be keen on the company's technical and practical support.
Vladimir Ray comments on the
"solid delivery and outstanding after-sales support."
while Rimma Kotlovskaya complemented the company's
"great logistic, technical and 24/7 professional support."
Greenway Global's international reach is another point brought up by reviewers.
As Katarina Hanakova puts it,
"The whole world is open, wherever you are, you can join and make the world even more beautiful and healthy."
Rimma Kotlovskaya also mentions
that their international market encompasses 50+ countries.
Overall, the general consensus appears to be that Greenway Global is a value-oriented business, providing not only eco-friendly products and financial opportunities, but also caring for their employee's personal growth and mutual understanding.
According to the customer reviews, the company is definitely worth considering if you're interested in multi-level marketing, and eco-friendly products.
If you feel Greenway Global could be the right fit for you after this overview, don't hesitate to find yourself a great Greenway Global distributor. On BFH, a list of recommended distributors for Greenway Global can be found here.
Greenway Global Conclusion
Greenway Global offers an exciting income opportunity for those interested in new income streams. With a revenue of $265 million in 2022, the company has established itself successfully in the market. It is possible to earn up to $5,000 per month through commission, although results may vary.
Greenway Global has demonstrated steady performance, with a 14% growth in annual revenue compared to 2021. The company's compensation plan paid out 40% of the potential $106 million commission. With an AA+ rating on Business for Home and ranked at number 52 among over 900 worldwide network marketing companies listed on the BFH database, Greenway Global is seen as an attractive opportunity.
Conducting thorough research about the company is important for entrepreneurs interested in building a network marketing business in 2023. Overall, based on the exhaustive information provided by Business for Home, it seems that one could potentially make decent money with Greenway Global.
About Greenway Global
Greenway Global, a green MLM company, has become within 6 years, one of the most famous in the network marketing industry known as the fastest growing company in its country: over 2 million partners worldwide, 53 countries of operation and 200 eco-markets today, with over 550 products for health, beauty, and home care.
The company's environmental projects have a worldwide scale – every month Greenway Global provides material and physical support to organizations dedicated to saving our flora and fauna. Greenway Global is the talk of the world's media, and the company's name is already firmly associated with concern for the ecology of our planet. For more information please visit mygreenway.com