BFH Andreh and Jackie Davoudi Achieve Highest Rank In Lifewave
November 7, 2023
By Team Business For Home International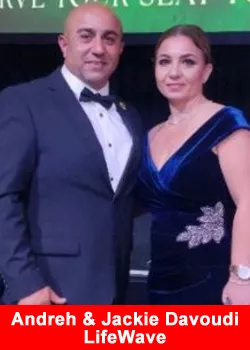 Nearly 14 months ago, I found myself at a crossroads, battling with health challenges that seemed insurmountable. A bout of cancer had left me almost disabled and on the verge of losing my left leg.
The overwhelming despair that accompanied this struggle was suffocating, and I was on the precipice of losing hope. It was then that I discovered the life-changing power of LifeWave.
My journey with LifeWave began as I was desperately searching for a solution to regain my health. The trials and tribulations of my cancer had left me physically and emotionally drained. I was not ready to accept a life of disability and dependence, so I began my quest for a lifeline.
That lifeline came when my friend Lynda Sanchez, introduced me to X39, LifeWave's revolutionary product. The X39, with its groundbreaking technology, offered the promise of reprogramming my body and aiding in my recovery. Skeptical yet hopeful, I embarked on a journey that would soon prove to be a life-altering experience.
The results of X39 were nothing short of miraculous. My body, once weakened and on the brink of amputation, began to improve. The X39 Technology seemed to communicate with my cells, promoting regeneration and revitalization. With each passing day, I felt stronger, healthier, and more determined to face my challenges head-on.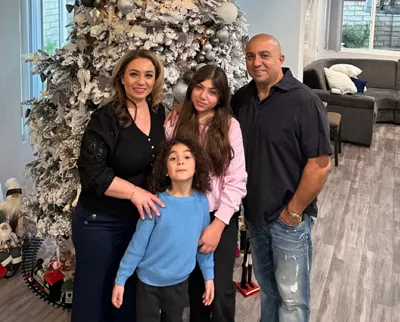 This transformation was not just physical; it was a resurgence of hope and a rekindling of my spirit. Witnessing the remarkable recovery facilitated by LifeWave's technology, I made a promise to myself… I vowed to share this extraordinary product with the world, to change lives one person at a time.
My journey as a LifeWave advocate began with unwavering determination. I teamed up with my wife Jackie and we started by sharing my personal story and the incredible impact X39 had on my health. We reached out to people, sharing the hope that LifeWave had brought into my life.
As the months passed, our mission gained momentum. Jackie and I became a beacon of hope for those who had lost faith in their own health and financial journeys. The LifeWave community rallied behind me, inspired by my unwavering commitment to transforming lives. Together, we became a force to be reckoned with.
In less than a year, Jackie and I accomplished the extraordinary. After partnering up with network marketing legends, Steve and Gina Merritt.
Jackie and I soared to the to LifeWave's Highest Rank, Senior Presidential Directors. We are blessed to be working with an amazing sponsor, Lynda Sanchez, and upline of incredible leaders Javi and Olga Solis and Mike and Sahi Hernandez.
Our journey had not only been about personal success but also about elevating those around us. We created over 100 managers and directors, and 3 Senior Presidential Directors (Highest Rank) within our organization.
LifeWave changed our lives, but it didn't stop there. It became a vehicle for transformation, a catalyst for hope in the lives of countless individuals who had the privilege of joining our team. LifeWave became synonymous with transformation, empowerment, and possibility.
In our journey with LifeWave, Jackie and I have discovered that the power to transform lives lies within each of us. It's a story of resilience, hope, and the extraordinary impact that one individual can have on the world. Our journey with LifeWave is a testament to the boundless potential of the human spirit when coupled with groundbreaking technology and unwavering dedication.
About LifeWave
Since LifeWave received its Patent for the X39 technology July 2020, the company has experienced explosive growth. LifeWave has grown from 20 million to 320 million dollars in the last 3 years with the United States being their number one market. LifeWave reports it grew 120% from September 2022 to September 2023. That is explosive growth with momentum gaining. All this excitement has captured the attention of many Network Marketing leaders around the world. 
The technology behind the X39 is very sophisticated, but the average person can understand how it works. David Schmidt the owner of LifeWave and inventor of X39 has been doing stem cell research since 2008 and whether the use of pulsed electromagnetic fields could have beneficial effects. David has over 130 Patents and has performed many case studies on LifeWave's X39 patch technology. To research X39 case studies, doctor reviews, patents, and testimonies go to ThisIsItinfo.com. 
Recommended Distributors LifeWave