Deni & Tom Robinson Achieve $10 Million In Career Earnings At ASEA
November 18, 2019
By Team Business For Home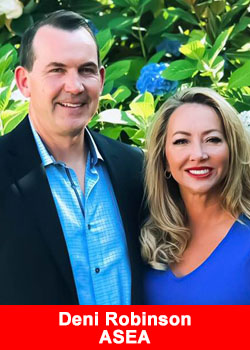 Deni Robinson is one of only two people to date to have achieved the rank of Presidential Diamond at ASEA.
As an icon for women in business, she's a yearly speaker at network marketing guru Eric Worre's GoPro event as well as at Marina Worre's Most Powerful Women in Networking event. She has also been invited to speak for the last three years at the Association for Network Marketing Professionals annual event.
While it takes a lot to run a business as large and successful as Deni's more than 150,000 people have joined her team, she will tell you that at its heart, her business is about building friendships.
"It always has been," she says. "When I first started in this industry, they told me to go friend-finding and knock on doors. I thought, 'I can do that.'"
Deni attended a direct-sales party for kitchenware and saw that they offered everything she was lacking in her own kitchen. So she did what she had to do to get it all for free: she hosted six parties. In doing so, she found out that managers could earn cars.
"I thought, 'That's what I want to do,'" Deni remembers. She got down to business, knocking on doors and setting up displays in grocery store parking lots. Two months later, she had earned her car—and she realized that she could make enough money for Tom to go back to college.
Looking back on it, Deni seems nearly as astounded by her own startup success story as someone who's hearing about it for the first time. "When we went back to Star Valley for ASEA's Ascent trip," Deni recalls, "I realized this is where I had earned my first car, and I thought, 'What in my head told me I could do that?' To have earned that in such a small town—what was I thinking?"
"I recently got a call from an associate who said, 'Deni, I'm so scared; I don't know how to become a Triple Diamond,'" she relates. "I said, 'You don't have to know how. You will become that, but you have to become each and every other rank along the way.''
Deni is big on creating a culture of belonging in her organization. She hosts yearly get-togethers in her home, a spacious residence the she and Tom built themselves that has plenty of acreage for her horses—an interest and love Deni has had since before she could walk.

She also hosts summer retreats with her team at her cabin, a lakeside property that sits just outside of Coeur d'Alene, Idaho.
Her outlook on recruiting doesn't stop there. "Enrolling someone isn't a destination; it's a doorway," Deni explains. "You can't sign someone up and wait. Amateurs do that. Pros open the door. You keep going, getting into their warm markets, and you'll never make a cold call, ever."
Deni is most inspired by the thought of leaving a legacy.
"It's not just a living," she states. "It's something that will live through other people; not just my children, but people who I've been able to affect in some way, whose lives have changed financially or physically."
About ASEA

Redox signaling molecules, vital to sustaining life, are naturally occurring and are created to support crucial immune system functioning and cellular healing. ASEA is the first and only company to replicate redox signaling molecules in a sustainable form outside of the body and include them in first-to-market products that help support and replenish cellular healing and replenishment.
Based in Utah, ASEA LLC is privately held, and its proprietary products and business opportunity are marketed to consumers via a global network of independent distributors. ASEA is a recognized category creator as the first company to market its patented redox signaling molecule technology in consumable and topical products to customers worldwide.
Recommended Distributors ASEA