Hülsa Wellness Announces Former Top Distributor David Berck As Its President
March 15, 2021
By Team Business For Home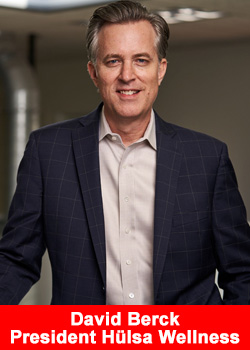 Hülsa®, a premium Critical Cannabinoid™ wellness and beauty company featuring BiBong® formulations, announced that David Berck serves as the company's President.
Berck has been a leader in direct sales for more than a decade. As an independent distributor, he reached the top 1% in two different direct sales companies within the wellness space. He now brings his experience including proven training modules, infrastructure, market growth strategies, and brand development to Hülsa.
Berck shared:
"I'm honored to lead this outstanding team in pioneering the future of Critical Cannabinoids™ and adaptogenic BiBong® formulations. From decades of leadership in cannabis and direct sales to literally centuries of experience in product formulations, we truly do have a remarkable team.

All of us have built successful companies and organizations from the ground up, but when you take those combined experiences and unify them around a singular vision, magic can happen and it's happening right now at Hülsa."
When asked how his experience as a distributor influences his priorities as President, Berck replied:
 "The first thing that you have to have as a distributor or Brand Partner to succeed is products that really work. If people experience consistent results, you've got something special. So product development has been essential to us. To lead with innovative products that truly perform.

I tell people all the time, 'I know you're going to think this sounds familiar, but wait until you've experienced our products for yourself.' I know they will feel the difference. Once they feel the difference for themselves they get really excited and that's where the magic begins."
 Berck continued:

"Secondly, the financial rewards need to be highly motivating. One of the things that has struck me through the years is how many companies tend to forget how valuable their sales force is and they look for ways to pay them less and less. They forget that their salespeople are the crown jewels of their company!

No sales, no company. This is why we spent so much time on our compensation plan. Some companies ask, 'What is the least we can pay?' We asked the exact opposite question and developed something really exciting for our Brand Partners.

I've had seasoned veterans look at our compensation plan and respond with one word. 'Wow!' Taking care of our Brand Partners and their customers is priority number one. Everything else is secondary."
Hülsa's Chairman of the Board Julian Michalowski shared:
"It is an absolute pleasure to have David steering the ship at Hülsa. He is a gifted leader and mentor who is admired by our Brand Partners and management team alike. His passion for people can be felt from the moment you meet him and this is exemplified in the way he approaches everything he does.
On top of this, he has an incredible business sense and brings a wealth of experience and insights from the field to Hülsa. I know that with David at the helm, Hülsa is going to incredible places!"
This announcement comes after recent major news that JBK Wellness Labs Founder Dr. Jenelle Kim, Network Marketing Expert Jeff Rogers, Celebrated Network Marketing Leader Joe Licciardi, and Wellness Advocate and Master Distributor Karen Boger have all also joined the Hülsa team.
About Hülsa Wellness
Colorado-based Hülsa Wellness Critical Cannabinoid™ wellness and beauty products are distributed through a direct sales model. Each Hülsa product is meticulously crafted using the highest-quality botanical ingredients infused with CBD-rich Critical Cannabinoids™ to deliver a truly clean wellness experience.
Driven by a deep-seated passion for sharing the benefits of not just CBD, but other essential cannabinoids found in the hemp plant, Hülsa ushers in a new era of self-care with rigorously tested, obsessively transparent, and flawlessly elegant cannabinoid offerings. Hülsa empowers its Brand Partners with a generous compensation plan, technology-driven tools, and an abundance of resources for their success.
Hülsa products range from daily wellness endocannabinoid support to topical skincare products, sleep aids and more with expanded offerings coming soon.  For more information please visit www.Hulsawellness.com.