Hülsa Wellness Launches BiBong Formulated SLEEP Tincture
April 1, 2021
By Team Business For Home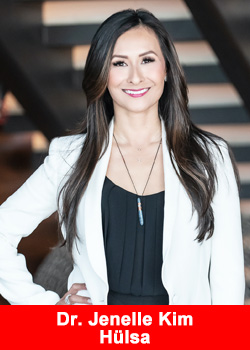 Hülsa®, a premium Critical Cannabinoid™ wellness and beauty company featuring BiBong® formulations, has launched their new BiBong® formulated SLEEP Tincture.  Dr. Jenelle Kim, Hülsa's Chief Formulator & Educator, created the SLEEP Tincture exclusively for Hülsa to help people sleep better using natural ingredients – and it is already a top seller.
The SLEEP tincture is a unique blend of BiBong® adaptogenic herbs formulated with Hülsa's powerful combination of CBD and CBN. This harmonious combination was developed as an aid for occasional sleeplessness.
CBN, a cannabinoid cousin of CBD, is amplified with BiBong's adaptogenic blend featuring Biota Seed, used for centuries to promote restful sleep; Hoelen Mushroom, one of the most important well-known Traditional Oriental Medicine sleep aids; and other deliberate herbs. The SLEEP formula is consumed via a dropper and should be taken before bedtime.
Dr. Kim said of the SLEEP Tincture:
"With today's hectic lifestyles, sleep is not a luxury, it is a necessity. Our new SLEEP tincture contains a proprietary BiBong formula synergistically blended with Hülsa's Critical Cannabinoids, including CBD and CBN, which are two of the most powerful cannabinoids for Sleep.

This amazing product is intended to help you fall and stay asleep. Prepare to benefit from a bountiful night's rest and to wake up each day without feeling groggy."
Dr. Kim of JBK Wellness Labs and Hülsa have an exclusive partnership to bring their decades of product formulation experience — plus Dr. Kim's secret herbal formulations passed through her lineage for centuries — with a specialty in herbology, to Hülsa. JBK is best known for its Bi Bong® formulations, which have deep roots in Traditional Oriental Medicine.
Dr. Kim shares:
"Bi Bong, which is Korean for 'secret formula,' are formulations that my ancestors devoted their entire lives to in order to find ways to improve the human condition – mind and body. I am thrilled to be sharing these remarkable formulas with the world through Hülsa." 
Dr. Kim is the first woman in her line of lineage to steward the Bi Bong® formulations. Dr. Kim explains that whether it's for beauty, digestion, or muscle and joint issues, BiBong® formulations are adaptogenic blends properly balanced to make ingredients like CBD or other herbs more bioavailable — meaning having an exponential active effect on the body.
The news of Hülsa's new SLEEP Tincture comes after recent major news that JBK Wellness Labs Founder Dr. Jenelle Kim, Network Marketing Expert Jeff Rogers, Celebrated Network Marketing Leader Joe Licciardi, Wellness Advocate and Master Distributor Karen Boger, and Former Top Distributor David Berck as its President are all part of the Hülsa team.
About Hülsa Wellness
Colorado-based Hülsa Wellness Critical Cannabinoid™ wellness and beauty products are distributed through a direct sales model. Each Hülsa product is meticulously crafted using the highest-quality botanical ingredients infused with CBD-rich Critical Cannabinoids™ to deliver a truly clean wellness experience.
Driven by a deep-seated passion for sharing the benefits of not just CBD, but other essential cannabinoids found in the hemp plant, Hülsa ushers in a new era of self-care with rigorously tested, obsessively transparent, and flawlessly elegant cannabinoid offerings. Hülsa empowers its Brand Partners with a generous compensation plan, technology-driven tools, and an abundance of resources for their success.
Hülsa products range from daily wellness endocannabinoid support to topical skincare products, sleep aids and more with expanded offerings coming soon.  For more information please visit www.Hulsawellness.com.