Neurologist Dr. Katy Szalay Joins DreamTrips International
January 28, 2023
By Team Business For Home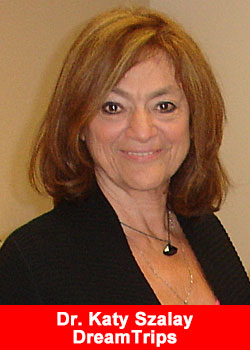 Travel is good for your health, Dr. Katy Szalay extends work as neurologist, recreation specialist to an international level.
Credits Jim Rohn for introducing her to marketing psychology in 1992 and planting the idea she should explore network marketing as an alternate career path.
She grew deeply impressed with Rohn's network marketing and training system, as well as his focus on professional development, after participating in training courses in the U.S. and Europe. But it wasn't until 2001 that she pursued an entrepreneurial career as a training program developer and market builder.
Since then, Dr. Katy has built organizations in several countries around the world, including the U.S. and Europe. And in 2006, earned a secondary degree as a professional personality and health promotion recreation specialist.
"The exhilarating journey is an important tool for health, physical, mental and spiritual recovery. While preserving the value of health, it provides opportunities for material and personal development,"
Dr. Katy says.
This is why she joined DreamTrips International.
"For me, both as a doctor and as a recreation specialist, it is an extension of my own professional field to an international level.

It is an indescribably good feeling that we can bring a lasting experience into people's lives through the club and see their joy, the strength given by positive energy, the changes in lifestyle and the fact that we can experience the joy of personal—small or large—successes, together,"
Dr. Katy says.
For those who don't like to travel alone, there is a community of traveler's with which to share experiences. They can find travel partners within the club, have real family travel experiences, build life-long friendships both as children and adults and experience the value and power of community safety in travel, reinforced by in-country hosts.
"DreamTrips is unique in the travel industry. The intangible goods it gives can change people's perspective on life, their lifestyle and the quality of life for those who try it,"
she said.
Dr. Katy has walked through history with DTI. Led by a stellar guide, her travel group "conquered" Dracula's castle, learned a plethora of new historical facts and experienced fabulous gastronomic events. She's strolled the streets of her "favorite" Prague and although she has visited several times before, there's always something new to see there.
"DreamTrips has an inexhaustible range of experiences. The DreamTrips training program is immersed in the DreamTrip experience, giving you new knowledge or reviving existing destinations,"
Dr. Katy says.
Beyond the excursions themselves, however, is the community travel experience. "Within the team and at the international level, new relationships are built, friendships are woven, new joint trips are organized and shared experiences, repeatedly, make these relationships stable in the long term," she says.
Dr. Katy looks forward to her next DreamTrip.
"I'm delighted that over 40 members of my team are attending this Discover trip."
About DreamTrips International
DreamTrips International, LLC is a privately held company based in Frisco, Texas. DreamTrips International is the #1 direct seller of global travel and lifestyle club memberships. More than 1.3 million travelers have experienced the one-of-a-kind, specially curated experiences known as DreamTrips. For more information please visit DreamTrips.com
Recommended Distributors DreamTrips International