The Top Network Marketing Companies In Momentum
July 28, 2023
By Team Business For Home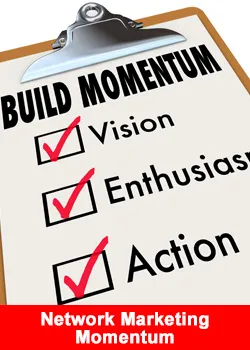 Momentum in network marketing refers to the rapid growth and success experienced by a network marketing company or distributor. It signifies a period where a company or individual gains traction, attracts new customers and distributors, and experiences significant advancements in their business.
In momentum network marketing, the company or individual experiences:
Increased sales,
Higher recruiting rates
and a surge in overall momentum.
This momentum can be fueled by various factors, such as:
Successful product launches
Effective marketing strategies
Strong leadership and a
Supportive network of distributors.
During a momentum phase, the company or individual may see exponential growth in their team and income, as more people are attracted to the opportunity and the products. This growth is often a result of positive word-of-mouth, successful marketing campaigns, and the reputation of the company.
To maintain momentum, network marketers need to focus on:
Providing value to their customers and team members
Maintaining a strong support system and
continuing to innovate and improve their products and services.
It is also crucial to have effective systems and processes in place to handle the increased demand and growth.
Momentum in network marketing can have significant benefits, such as higher earnings, increased recognition, and the ability to expand into new markets.
However, it is important to note that momentum can also be temporary, and it is essential for network marketers to continually adapt and evolve their strategies to sustain long-term success.
The Business For Home algorithm, compile the momentum list based on below key metrics and on a daily basis (01.00 – 02.00 PM European Time Zone): Maximum number of points: 17,000.
Nr 1 gets 1,500 points, Nr 2 gets 1,499 points and so on.
Company Simular web ranks: 1,500 points max.
Company Page views: 1,500 points max.
Company Reviews by distributors: 1,500 points max.
Company YouTube view ranks: 1,500 points max.
Company YouTube subscribers ranks : 1,500 points max.
Company Twitter followers: 1,000 points max.
Company Revenue growth in %: 1,500 points max.
Company Revenue growth in $ Millions: 1,000 points max.
Recommended Distributors per company: 2,000 points max.
Company articles published on Business For Home: 1,500 points max.
Top Earners per company: 1,500 points max.
Business For Home Rating: 1,000 points max. (1,000 AAA, 500 AA, 250 A, 0 for B Grade)
Showing 1 to 25 of 822 entries