DUOLIFE: A Remarkable Network Marketing Opportunity
September 26, 2023
By Team Business For Home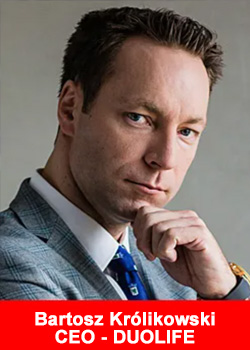 DUOLIFE is a Network Marketing Company that has garnered significant attention for its potential in generating income. With a 2022 revenue of $46 Million and a projected commission payout of 42%, DUOLIFE might offer an opportunity worth exploring.
DUOLIFE is a joint-stock company founded in Poland, operating globally on 52 markets and territories, based on the proprietary softmarketing® business model.
DUOLIFE Club members operate all over the world, and the company's products are shipped not only to European, but also Asian, North and South American countries.
The company owns two factories, where under the watchful eye of the Research and Development Department and the Scientific Council, new products lines are being created. One of them produces supplements in liquid and capsule form, the other works on cosmetics.
The uniqueness of the products is based on the ingredients of the highest quality. The performance of many of them has been confirmed by numerous clinical trials. The product portfolio contains over 70 products.
DUOLIFE in Facts and Figures
In 2022, DUOLIFE has shown steady performance with a recorded revenue of $46 Million which indicates a 10% revenue difference in comparison to 2021. From this revenue, as much as $19 Million could have potentially been paid out in commissions according to the compensation plan that pays out at 42%.
The company, under the leadership of CEO Bartosz Królikowski, is based in Poland (PL) and continues to maintain a strong presence in the industry.
The Business for Home Rating has recognized DUOLIFE with AAA+, the highest possible rank.
Moreover, it currently holds the first place amongst more than 900 worldwide network marketing companies included in the BFH database. DUOLIFE has 21 recommended distributors, and the company page has received 32,531 page views. More information can be obtained from both the company page and the company rank page, including credible reviews.
2022 revenue: $46 Million
2022 revenue increased by 10% compared to 2021
Potential commission payout in 2022: $19 Million
Compensation plan pays out 42%
Business for Home Rating: AAA+: The Top rank
Current Business for Home Momentum Rank: 1
21 Recommended Distributors
Operations in 52 Markets
Portfolio contains over 70 products
Business for Home pageviews: 32,531
CEO: Bartosz Królikowski
Company location: Poland (PL)
Data provide by the proprietary Business for Home Intelligence Engine

DUOLIFE Board Of Directors
Building a Network Marketing Business with DUOLIFE in 2023
1. Understand What Network Marketing Is
In essence, network marketing is a structured business model that relies on individual-to-individual sales by independent representatives, often working from home. Success in network marketing requires strong interpersonal skills, commitment, and a deep understanding of the product and company you're representing.
2. Research Network Marketing Companies
Not all network marketing companies are created equal, and it's important to find one that aligns with your values and goals. Use resources like the Business for Home website to compare companies and check their reviews. The site ranks companies based on factors like their compensation plan, corporate leadership, and product value.
3. Consider Joining DUOLIFE
DUOLIFE is a promising network marketing company that specializes in high-quality health and wellness products. It's praised by participants for its unique blend of science and nature in product formulation, innovative recruitment and compensation plan, and supportive corporate culture. DUOLIFE is committed to helping its members achieve health and financial success.
4. Read Reviews About DUOLIFE
Before you decide to get started with any network marketing company, it's a good idea to read several reviews. That way, you can get a sense of what real people's experiences with the company are like. Reviewers on the Business for Home website discuss their experiences with DUOLIFE, providing a valuable perspective.
5: Check our articles about DUOLIFE
Here are a couple of articles about Duolife:
6. Join the company
If you've decided that DUOLIFE is a great fit for you, the next step is to register with the company and take part in their initiation process. This often involves a small start-up fee, an introduction to DUOLIFE's product line, and training on how to effectively sell the products.
You might want to team up with a DUOLIFE recommended distributor. You find them at the bottom of this article.
7. Stay Committed
Like any business venture, success in network marketing takes time and persistence. Remember that the skills and knowledge you're gaining are valuable, and keep aiming for your goals. With hard work and commitment, you can create a successful network marketing business with DUOLIFE.
Here's a glimpse of what people are writing about DUOLIFE
Duolife appears to have delivered significant benefits for a number of its users according to these reviews. Several reviewers shared their positive experiences with the company on the Business for Home platform.
Duolife received notes of appreciation, trust, and recommendation from its users. They have expressed confidence in the effectiveness of the products in improving their health and quality of life. The company has also evidently provided business and marketing opportunities that have been well-received by its users:
Ana Hoss mentioned that initially she did not trust the company, but regrets not becoming involved sooner:
"The first time I didn't trust this company, but now I regret that I didn't join this company much earlier."
she said.
Ana Branic's sentiments were aligned with those of Ana Hoss. She talked about the positive changes to her life and her family's lives after using the DUOLIFE supplements.
""Thank you very much DUOLIFE since I started using the supplements, my life and my family's life has changed 180 degrees."
she stated.
Bianca Lupsa particularly highlighted that she was diagnosed with arthrosis at the age of 33 and the products have helped her manage the pain associated with this condition. She also commented on the positive effect on her children's health.
"I can't express my happiness in words! Diagnosed at the age of 33 with arthrosis, I got rid of pain with the help of these products."
From a business point of view, Izabella Turke was glowing about the company, stating that the transparency, marketing plan, and team were all impressive."
The premium quality of the products convinced me to implement them with confidence in my life and that of my loved ones, the company is very serious, transparent, the marketing plan is excellent, unmatched."
Meanwhile, Oana Stoica has a great respect for the company and its products. She plans to continue using them and recommending them to others.
"My family and I will never stop using them, we are all extremely pleased with everything we have consumed from this wonderful company."
DUOLIFE Conclusion
DUOLIFE, a platform known for its income-generating potential, has reported an impressive 2022 revenue of $46 Million. With a projected commission payout of $19 Million based on their compensation plan of 42%, joining DUOLIFE may present a lucrative opportunity.
The company is based in Poland and has maintained a strong presence in the industry under the leadership of CEO Bartosz Królikowski. It has been recognized with the highest possible rank of AAA+ by Business for Home and holds the top position among over 900 network marketing companies worldwide.
The company's page has received over 32,000 views, and it has 21 recommended distributors. Considering these statistics and the credible reviews available, it is evident that DUOLIFE has the potential to offer a substantial income-generating opportunity.
Recommended Distributors DUOLIFE