Master Promoters Capitalize on First Mover's Advantage
October 3, 2023
By Team Business For Home International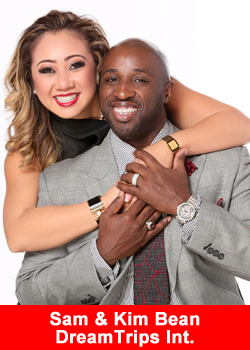 Sam and Kim Bean get it! They know that DreamTrips International is by far the most prolific earning travel club opportunity out there, and it's their plan to capitalize on "first mover's advantage."
"Once everybody realizes DreamTrips is open for business, they will immediately come back to the world's largest travel club,"
Sam said.
And why wouldn't they? Sam has several friends who earned millions with the previous iteration of DTI, while he and Kim made millions selling products for other companies.
Pitching the business and pleasure combo of travel is an easier sell than any other direct sales product, and these master promoters are primed for it.
Sam looks at it this way:
"People sell products in other direct selling companies, so they can enjoy our product at full price."
But those same direct sellers can join DTI and get deep discounts on equally exclusive travel experiences.
There are so many ways travel sells itself, Sam says. It's a marketing tool. It improves morale, creates gratitude, fosters loyalty and is an epic reward or employee benefit. Take training events and recognition to a beautiful locale, and attendance is bound to increase.
DreamTrips+, DTI's new digital learning platform, along with transformation trips featuring industry leaders and world-renowned speakers and authors, is going to be the engine behind the program, Sam said.
"Once you take a trip and gain access to income and life changing information, you come back from DreamTrips empowered, with bigger belief and a plan of action,"
he added.
Their travel club experiences allow Sam and Kim to learn about different cultures and find better ways to communicate, behave, promote and incentivize. Because of travel, Sam said he connects easier with people, is more relatable and has learned how best to validate, develop and love on people.
"It's obviously working," Sam said, "because they call me the 'People's Champ."
DTI will fill a much-needed lifestyle component for Sam and Kim.
"It's the part that brings us closer together, unites us and gives us the family environment that is crucial for longevity,"
he said.
About DreamTrips International:
DreamTrips International, LLC is a privately held company based in Frisco, Texas. DreamTrips International is the #1 direct seller of global travel and lifestyle club memberships. More than 1.3 million travelers have experienced the one-of-a-kind, specially curated experiences known as DreamTrips.
Recommended Distributors DreamTrips International