Dubai Wows New DTI Travel Ambassadors
November 17, 2023
By Team Business For Home International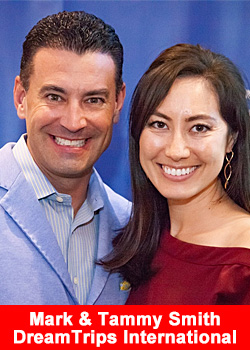 Enthusiastic and highly motivated new Travel Ambassadors kicked off their new DreamTrips International businesses during a four-day, three-night DreamTrip to Dubai this month.
Flying in from all corners of the globe, these Travel Ambassadors capitalized on DTI's Training and Systems available to new enrollees that provides expert business training conducted by top company leaders at glamourous locales across the globe.
"The Dubai DreamTrip reengaged me and my team in so many ways.

The training gave them the confidence to start reaching out to people on the spot and the entire experience solidified the notion that community is everything and we are in the right place,"
said Executive Producer, Hadiatu Dumbuya. 
"We were all reminded that it's important to live life NOW!"

"Our Discover process has proven highly successful for new business owner success, as we continue to see them climb the DTI ranks,"
CEO Mark Smith said.
"At the same time, the Discover process has been scalable globally, and that means great things for the future of DreamTrips International."
Dubai played host to this exciting adventure, where an in-country travel expert is always there to ensure a spectacular experience from the moment Travel Ambassadors touch down on the runway and make their way into the local airport. Hotel and baggage transfers, scheduled activities throughout the stay and notification of group itinerary updates make DreamTrips as worry-free as possible.
And just like the rest of DTI's luxurious, curated travel experiences, the Dubai DreamTrip did not disappoint.
"The Dubai DreamTrip solidified the notion that community is everything for my team. Many new "family-ships" were fostered, and many new stories will be shared with prospects",
says Dumbuya.
"Nothing can prepare you for the lights and glamour of a city like Dubai, and to witness firsthand other members of my team experiencing it for the first time, is something I will never forget!"
So taken with what they had seen and learned of this new culture, most attendees extended their DreamTrip by a few days to visit Abu Dhabi, where they solidified newly formed friendships and business bonds having fun with fellow Travel Ambassadors and DreamTrippers.
"It's so exciting to see DreamTrips like this one to Dubai really work to build the confidence and knowledge of our new Travel Ambassadors and the loyalty of DreamTrippers. The whole Discover Process is a success story for the company!

We're continuing to expand our trip locations because we know that everyone's travel dreams are different, and it's our aim to show people from all walks of life that they can make even the most exotic travel dreams come true!"
Smith said.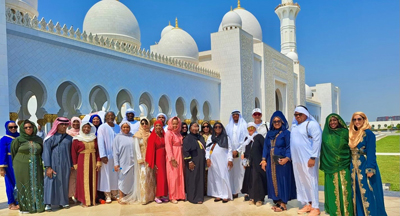 About DreamTrips International:
DreamTrips International, LLC is a privately held company based in Frisco, Texas. DreamTrips International is the #1 direct seller of global travel and lifestyle club memberships. More than 1.3 million travelers have experienced the one-of-a-kind, specially curated experiences known as DreamTrips.
Recommended Distributors DreamTrips International