Talk Fusion Indonesian Team To Celebrate Achievements At HERO 2016
August 3, 2016
By Nicole Dunkley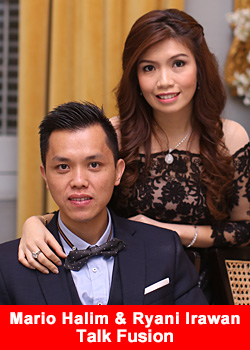 After the colossal success of last year's standing-room-only HERO event, Top Talk Fusion Leaders from Indonesia are gearing up for an even more exciting encore this September.
From an awe-inspiring luxury car parade through the streets of Surabaya (complete with police escorts) to powerful live presentations and uplifting insight from the Talk Fusion Executive Team, the fourth annual HERO is sure to be an unforgettable experience.
From September 16th through 19th, thousands of Associates from all over the world will converge on Indonesia to celebrate exemplary hard work, dedication, and determination. Complete with onstage Associate Recognition, motivational speeches, and inspiring videos, this event is known for generating the kind of excitement that changes lives. And with impressive special effects, dance-offs, and famous emcees, hosts Royal Blue Diamonds Mario Halim and Ryani Irawan and Grand Blue Diamond Marselinus Halim find incredible new ways to raise the bar every year.
"It's like nothing you've ever seen before," said VP of Training & Development Allison Roberts. "HERO is an incredible opportunity to experience firsthand the passion and excitement we share at Talk Fusion."
That passion has served them well. Fueled by their unwavering momentum and enthusiasm, Talk Fusion's Indonesian Associates have spent 2016 climbing the ranks, breaking records, and hosting sold-out conferences to encourage others to do the same. Following the successful VIP Vision Tour, many have already qualified for Destination: Dubai and Dream Getaway in Maui, as well as the Mercedes Madness Car Bonus, Rolex watches, and Recognition Rings.
Mario Halim and Ryani Irawan made history this year when they became Indonesia's first Royal Blue Diamonds. Top Leaders set a new standard in luxury with the purchase of not one, not two, but three brand-new Ferraris and even more Porsches. Others received major media attention with their extravagant lifestyles, accomplishments, and generosity—all because of the Talk Fusion business opportunity.
"Everything we do as a company revolves around helping people live their dreams," said Roberts. "And HERO is a great place to see that in action."
From dream cars to dream lifestyles, Associates all over the world have found a better way with Talk Fusion. Through its innovative video products and life-changing business opportunity, the inspirational leaders of Team Indonesia strive to improve its country's economy one Associate at a time.
"The best thing for us is helping members of our family and our business achieve a better life," said Royal Blue Diamond Mario Halim. "It couldn't be done without teamwork. We're incredibly grateful for the opportunity Talk Fusion has given us."
ABOUT TALK FUSION
Home of the world's first all-in-one Video Marketing Solution, Talk Fusion is dedicated to helping businesses stand out from the competition, increase sales and profits, and keep their customers coming back. Talk Fusion offers dynamic ways to make marketing more engaging, memorable, and persuasive with video.
Talk Fusion's innovative products are marketed person-to-person by Independent Associates in more than 140 countries. 30 day Free Trials of the all-in-one Video Marketing Solution are available to anyone who wishes to try before they buy—no credit card required—at www.JoinTalkFusion.com.
Established in 2007 by Founder & CEO Bob Reina, Talk Fusion fosters a strong commitment to Giving Back to family, friends, communities, and animal charities across the world. Learn more at www.TalkFusion.com and "Like" Talk Fusion at www.facebook.com/TalkFusion.
DISCLAIMER
The incomes and lifestyles depicted in this article are not representative of the results achieved by most Talk Fusion Independent Associates. Talk Fusion does not guarantee your financial success. For actual results achieved by all Talk Fusion Independent Associates, see Talk Fusion's Income Disclosure Statement at www.talkfusion.com.