Fitteam Global Review: Lack of Transparency However Room For Improvement
November 18, 2023
By Team Business For Home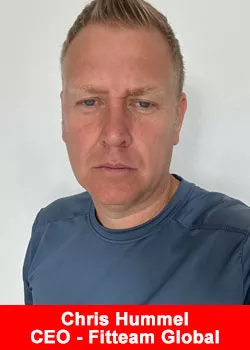 According to the Fitteam website:
"Fitteam is a health and fitness company that offers various products and programs to support individuals in achieving their goals. We focus on promoting a healthy and active lifestyle.

Our nutritional supplements are designed to enhance physical performance, support weight management and provide overall wellness benefits. We provide coaching and support to people of all ages who are looking to make positive lifestyle changes."
Unfortunately, assessing their performance is challenging due to a lack of regular press releases, unclear financial information, no top earners information, nor recommended distributors. Website traffic to the Fitteam Global website is according to SimularWeb relative low, and ranked in our Businesss For Home network marketing company database as 533, out of 900 companies.
We estimated the company at a revenue of $5 million in 2022. Besides the owners, no information is available on the Fitteam Global website about the corporate team.
The Fitteam Global company page on this website is viewed an impressive 121,000+ times, indicating an above average interest in reliable information. In our opinion Fitteam Global can improve its visibility and marketing by far, as described below.
Fitteam Global in Facts and Figures
The business, led by its CEO Chris Hummel and based in the United States, might has been able to pay out $1 million in commission in 2022. However, there isn't enough available information to provide a comprehensive rating for Fitteam Global, hence it has been given a B rating.
The company has no recommended distributors currently, and occupies 267th position in the Business for Home momentum rank, out of 900-plus worldwide network marketing companies. Information and reviews related to the firm can be found on its dedicated company page and review page on the Business for Home website.
2022 Revenue: estimated $5 million
Revenue difference with 2021: 0%
Commissions paid out in 2022: estimated $1 million
Compensation plan payout: 35%
Business for Home Rating: B
Business for Home Momentum Rank: 267 out of 900+
Number of Recommended Distributors: 0
Business for Home pageviews: 121,511
CEO: Chris Hummel
Company location: United States
Data provide by the proprietary Business for Home Intelligence Engine
Reasons for Fitteam Global's B Rank in the Business for Home Database
There are several reasons why Fitteam Global has been given a B rank in Business for Home. Despite the company's wide range of health and wellness products, there are some significant shortcomings in the way the company operates, substantially leading to its lower ranking.
Lack of Reliable Information
One of the main reasons is the company's incomplete or unreliable information shared regarding their business operations. The details provided are often not substantiated well enough to give a clear picture of their credibility or reliability. This aspect is essential while researching network marketing companies on Business for Home, as it provides valuable insights into the respective company's operations and transparency.
No Regular Press Releases
Fitteam Global also lacks in releasing regular press releases to keep its stakeholders informed about the developments in the company. Regular press releases are crucial for business visibility, and their absence could question the company's commitment to transparency and customer communication.
No Transparency in Revenue
Furthermore, there is a conspicuous lack of transparency in Fitteam Global's financials. A company's financial information is a crucial benchmark for assessing a business's sustainability and future potential.
Lack of Top Earners' Visibility
Another reason is the insufficient visibility of the top earners within the Company. While researching network marketing companies, people often look up to top earners as a measure of a company's potential for income generation. Unfortunately, the top earners at Fitteam Global are hardly visible, which might deter potential distributors and customers.
Less Active Distributors
Lastly, Fitteam Global's distributors have hardly any presence in the industry compared to distributors of other companies. Active distributors, such as recommended distributors are the backbone of any network marketing company. Their lack of visibility can raise questions about the company's marketing strategies.
How Fitteam Global could improve their visibility
Publishing success stories and company press release offer several advantages for Fitteam Global. Here are some of the key advantages of publishing success stories and links to several high performing articles from different companies as examples of a shining marketing strategy anno 2023 :).
Inspiration Motivation, Credibility and Trust
Success stories serve as sources of inspiration and motivation for others. When people read about others who have overcome challenges and achieved their goals, they are often motivated to pursue their own aspirations. They can enhance your credibility and build trust with your audience. Real-life examples of achievements provide evidence that your strategies, products, or services are effective and can deliver results.
Social Proof and Differentiation:
Success stories provide social proof that your offerings have been valuable to others. Potential customers or clients are more likely to engage with your products or services if they see that others have benefited from them. In competitive markets, success stories can set you apart from competitors. Demonstrating your track record of achieving results can give you a unique selling point.
Brand Building, Networking and Collaboration:
Consistently publishing success stories can contribute to your brand narrative. It showcases your company's values, mission, and commitment to helping others succeed. Articles can attract the attention of like-minded individuals or organizations interested in collaboration. They provide opportunities to connect and establish partnerships.
Overall, success stories and press releases have the power to inspire, educate, and foster connections. Whether in the business, personal development, or social spheres, sharing stories of achievement can bring about positive change and growth in Network Marketing.
Fitteam Global Conclusion
Fitteam Global has been given a B rating by Business for Home primarily due to a lack of available information to provide a comprehensive rating. Their transparency and distributor visibility are questionable, as there are no recommended distributors currently and limited information about top earners and company revenue through the years.
Additionally, the company's position in the Business for Home momentum rank is 267 out of over 900 worldwide network marketing companies, indicating an under average performance currently.
Fitteam Global's opportunity shows potential for making decent money for a network marketing distributor, but it is important to consider the lack of transparency and limited available information before joining as a distributor. If the company can improve their (social media) marketing they might be a great fit for many opportunity seekers.