WOR(l)D Global Network StayConnected Tour Lands In Miami
February 19, 2016
By Team Business For Home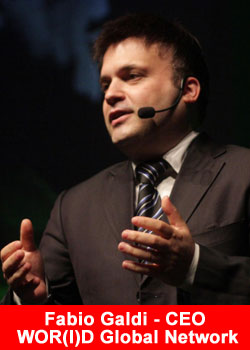 According to a WOR(l)D Global Network Press release:
The WOR(l)D management meets the US network in Miami.
The WOR(l)D Global Network US network is in turmoil.
Everything is ready in Miami for the arrival of the WOR(l)D management, that, during the next stop of the StayConnected Tour, will meet with the top leaders in our US headquarters.
The President and CEO Fabio Galdi will be accompanied in this new stop of the world tour by Alessandro Senatore, Chief Operations Officer, by Alfonso Galdi, Chief Financial Officer, by Antonio De Rosa, WOR(l)D SVP Marketing and Communications and by Walter Presutti, SVP International Network Development.
In Miami, the WOR(l)D top managers will be launching important innovations to the local network and will be able to unveil important information about the mCell project development. In these very days the first models of SpaceStation Mini are going to be shipped.
The SpaceStation Mini is one of the new WOR(l)D products that generates the mCell signal and, in addition to creating a more efficient and faster network, as a powerbank, it is also able to provide a valid energy support to technological devices. These are only some of the anticipations for the WOR(l)D network.
The StayConnected Tour is ready to go. Here are the next dates:
February 25-26-27 Bogotá (Colombia)

February 27-28-29 Ciudad del Este (Paraguay)

March 5-6 Moscow (Russia)

March 12-13 Almaty (Kazakhstan)

March 18-19 Dubai (UAE)

March 26-27 Tunisi (Tunisia)

The WOR(l)D challenge continues.
WORL(l)D GN Top Earners are:
| Nr. | Name | Est. Month | Est. Year | Company |
| --- | --- | --- | --- | --- |
| 1 | Jessie Lee Ward | | | |
| 2 | Viraj Patil | | | |
| 3 | Juan Fernando Franco and Ivan Martinez | | | |
| 4 | Jenna Zwagil | | | |
| 5 | Allan Badilla | | | |
| 6 | Jason Brown And Matthew Rosa | | | |
| 7 | Yager Group | | | |
| 8 | Gustavo Salinas | | | |
| 9 | Samer Yorde and Paula Landino | | | |
| 10 | Joachim Heberlein | | | |
| 11 | Rolf Kipp | | | |
| 12 | Khalid Shaath | | | |
| 13 | Jeff Roberti | | | |
| 14 | Ramesh Choudhary | | | |
| 15 | Hamza Majdi & Mehdi Ben M Louka | | | |
| 16 | Lisa Faeder Grossmann | | | |
| 17 | Branden Thompson | | | |
| 18 | Juan Colorado and Laura Cañaveral | | | |
| 19 | Jose Ardon | | | |
| 20 | Ada Caballero | | | |
| 21 | Marcell Rodriguez | | | |
| 22 | Nicola Smith Jackson | | | |
| 23 | Dan & Megan Valentine | | | |
| 24 | Pablo Collomb | | | |
| 25 | Ana Cantera | | | |
| 26 | Mark and Judy Willodson | | | |
| 27 | Ed Bestoso | | | |
| 28 | Nobuhiro Kaneko | | | |
| 29 | Stormy Wellington | | | |
| 30 | Austin Godsey | | | |
| 31 | Enrique and Graciela Varela | | | |
| 32 | Seville and Rachaell Ko | | | |
| 33 | Ryan Higgins | | | |
| 34 | Robert Hollis | | | |
| 35 | Rafael Rojas | | | |
| 36 | Herson Antonio La Riva Ruvolo | | | |
| 37 | Jared and Heather Burnett | | | |
| 38 | Hayley Hobson | | | |
| 39 | Anthony Napolitano | | | |
| 40 | Travis and Summer Flaherty | | | |
| 41 | Nathalie Nicole Smith | | | |
| 42 | Sharmeeka Brooks | | | |
| 43 | Christian Nuñez | | | |
| 44 | Jesse and Patricia Macpherson | | | |
| 45 | Jeff and Maureen Miller | | | |
| 46 | Steve Thompson | | | |
| 47 | Patrick and Allyse Sedivy | | | |
| 48 | Barry Chi & Holly Chen | | | |
| 49 | Sunny Hsu & Debra Hsieh | | | |
| 50 | A. Benitez & Raquel Cortez | | | |
Showing 1 to 50 of 2658 entries