Triple A+ Network Marketing Companies – The Highest Recommendation For 2021
August 18, 2021
By Team Business For Home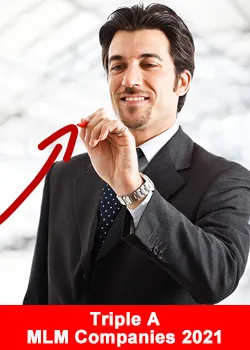 Our ranking system for Network Marketing –  MLM – Direct Sales – Social Selling companies can be part of your Due Diligence.
Due diligence is the investigation or exercise of care that a reasonable business or person is expected to take before entering into an agreement or contract with another party, or an act with a certain standard of care.
In other words: How is a company doing compared to his peers? Opportunity seekers can use this ranks to produce a short list of interesting opportunities.
Our ranking is based on a number of facts and figures such as:
We have classified the companies into 4 ranks or grades and about:
  7% has a AAA+ ranking, the highest recommendation.
30% has a AA+ ranking.
33% has a A+ ranking.
30% has a B ranking.
Below Triple A list is alphabetical sorted
(there is no rank within Triple A)
| Nr. | Company | Classification | Revenue 2020 |
| --- | --- | --- | --- |
| | | | |
| | | | |
| | | | |
| | | | |
| | | | |
| | | | |
| | | | |
| | | | |
| | | | |
| | | | |
| | | | |
| | | | |
| | | | |
| | | | |
| | | | |
| | | | |
| | | | |
| | | | |
| | | | |
| | | | |
| | | | |
| | | | |
| | | | |
| | | | |
| | | | |
| | | | |
| | | | |
| | | | |
| | | | |