Top 200 Worldwide Earners In MLM – February 2016
February 12, 2016
By Team Business For Home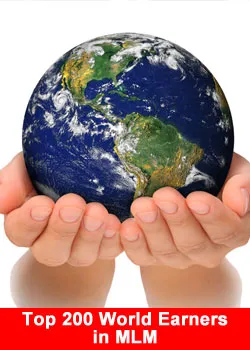 The estimated earnings are based on Internet research, earnings claims from conventions, downline, upline, crossline information, direct selling magazines and through our reporters.
Numerous top earners and companies share earnings with us. Our objective is to show people, you can make an honest living with MLM, Direct Selling working with all kind of Direct Selling Companies.
These leaders had an incredible vision, empower people, and change their life through this business. They build Million-Dollar Distributorships through Million Dollar Relationships.
The estimated (gross) earnings are per month. You can search on name/company in our full database.
Adjustments, or did we miss you and do you make more then $ 5,000 per month?
| Nr. | Name | Est. Month | Est. Year | Company |
| --- | --- | --- | --- | --- |
| 1 | Jenna Zwagil | | | |
| 2 | Matthew Rosa | | | |
| 3 | Yager Group | | | |
| 4 | Gustavo Salinas | | | |
| 5 | Joachim Heberlein | | | |
| 6 | Rolf Kipp | | | |
| 7 | Khalid Shaath | | | |
| 8 | Jeff Roberti | | | |
| 9 | Sandro Cazzato | | | |
| 10 | Lisa Faeder Grossmann | | | |
| 11 | Ada Caballero | | | |
| 12 | Marcell Rodriguez | | | |
| 13 | Dan & Megan Valentine | | | |
| 14 | Stefania Lo Gatto & Danien Feier | | | |
| 15 | Ana Cantera | | | |
| 16 | Ed Bestoso | | | |
| 17 | Nobuhiro Kaneko | | | |
| 18 | Enrique and Graciela Varela | | | |
| 19 | Seville and Rachaell Ko | | | |
| 20 | Ryan Higgins | | | |
| 21 | Robert Hollis | | | |
| 22 | Rafael Rojas | | | |
| 23 | Calvin Becerra | | | |
| 24 | Herson Antonio La Riva Ruvolo | | | |
| 25 | Jared and Heather Burnett | | | |
| 26 | Shane & Dana Douglas | | | |
| 27 | Hayley Hobson | | | |
| 28 | Anthony Napolitano | | | |
| 29 | Christian Nuñez | | | |
| 30 | Jesse and Patricia Macpherson | | | |
| 31 | Jeff and Maureen Miller | | | |
| 32 | Steve Thompson | | | |
| 33 | Patrick and Allyse Sedivy | | | |
| 34 | Barry Chi & Holly Chen | | | |
| 35 | Sunny Hsu & Debra Hsieh | | | |
| 36 | A. Benitez & Raquel Cortez | | | |
| 37 | Nancy Dornan | | | |
| 38 | Patrick Maser & Mike Maser | | | |
| 39 | Kang Hyeon Sook & Ryu InIk | | | |
| 40 | Juan Colorado and Laura Cañaveral | | | |
| 41 | Christian Daniel Lopez Corrales | | | |
| 42 | Brittany Hitch | | | |
| 43 | John and Lori Tartol | | | |
| 44 | Susan Peterson | | | |
| 45 | Evgeniya Novikova | | | |
| 46 | Leonard & Irina Weisbein | | | |
| 47 | Francesca Fields | | | |
| 48 | Javier Garcia Herreros Cami Moreno | | | |
| 49 | John & Nadya Melton | | | |
| 50 | Tae Ho Kim | | | |
| 51 | Jeff & Michelle Altgilbers | | | |
| 52 | Alaa Kotb | | | |
| 53 | David and Terri Miller | | | |
| 54 | Nina Shashukova | | | |
| 55 | Carrie Dickie | | | |
| 56 | Azad Mohammadamin | | | |
| 57 | Toni Vanschoyck & Jay Treloar | | | |
| 58 | Ahmed Emad El Din | | | |
| 59 | Margie Aliprandi | | | |
| 60 | Brian McClure | | | |
| 61 | Gianluca Gallo | | | |
| 62 | Boyd and Sandy Truman | | | |
| 63 | Andy and Natalie Goddard | | | |
| 64 | Carol & Alan Lorenz | | | |
| 65 | Kaoru Nakajima | | | |
| 66 | Leonard & Esther Kim | | | |
| 67 | Mark Lei & Peggy Yeh | | | |
| 68 | Trish and Bob Schwenkler | | | |
| 69 | Gabi Steiner | | | |
| 70 | Rapatsith Sasinonpakorn | | | |
| 71 | Juan Fernando Franco and Ivan Martinez | | | |
| 72 | Anas Darrassi | | | |
| 73 | Art Napolitano | | | |
| 74 | Kami and Nathan Dempsey | | | |
| 75 | Madra Meystedt Jones | | | |
| 76 | Chavich Kim | | | |
| 77 | Roger and Teresa Harding | | | |
| 78 | Rasa Comeban | | | |
| 79 | Mark Comer | | | |
| 80 | Ray Montie | | | |
| 81 | Lily Garcia & Isidro Luna | | | |
| 82 | Edgar Mojica | | | |
| 83 | Debra Raybern | | | |
| 84 | Hind El Hadaj | | | |
| 85 | Yun-Tae Hwang | | | |
| 86 | Gregg and Carol Johnson | | | |
| 87 | Giselle Sexsmith | | | |
| 88 | Marco & Milagro Dubon | | | |
| 89 | Mitch & Deidre Sala | | | |
| 90 | Naoki Hongo and Kimie Hongo | | | |
| 91 | Luis Antonio Ocampo Avellaneda | | | |
| 92 | Romacio Fulcher | | | |
| 93 | Tetsuya Fujisawa | | | |
| 94 | Brian Carruthers | | | |
| 95 | Danyal Islam | | | |
| 96 | Rita Hui | | | |
| 97 | Aderly Dupont | | | |
| 98 | Steven and Monica Hsiung | | | |
| 99 | David and Tawnya Hsiung | | | |
| 100 | Michiko & Bruno Graf | | | |
| 101 | Ming Kuan and Ming Chu Chen | | | |
| 102 | Alex Reynoso | | | |
| 103 | Andreas Matuska | | | |
| 104 | Rick Jordan | | | |
| 105 | Ali Mavani | | | |
| 106 | Earica Cole | | | |
| 107 | Daniel Mueller | | | |
| 108 | Hamza Majdi & Mehdi Ben M Louka | | | |
| 109 | Nicola Smith Jackson | | | |
| 110 | Robbins Family | | | |
| 111 | Vladimir Polezhaev | | | |
| 112 | Brenda and Scott Schuler | | | |
| 113 | Max Schwarz | | | |
| 114 | Peter & Eva Muller | | | |
| 115 | Hilde & Orjan Sæle | | | |
| 116 | Collette Larsen | | | |
| 117 | Daniel Lim and Lilian Quah | | | |
| 118 | Geri Cvitanovich | | | |
| 119 | Jordan Adler | | | |
| 120 | Roberto Ruiz | | | |
| 121 | Tim Foley | | | |
| 122 | Gürkan Kandemir | | | |
| 123 | Johnny Wimbrey | | | |
| 124 | Cheryl Cortese | | | |
| 125 | Carolina Cruz & Asdrubal Sanabria | | | |
| 126 | Daniela Aristizabal | | | |
| 127 | Katerin Castrillon Betancourth | | | |
| 128 | Luis Marishta | | | |
| 129 | Jeisson Sanchez | | | |
| 130 | Stormy Wellington | | | |
| 131 | Pier Olivier Larose | | | |
| 132 | Gloria Mayfield Banks | | | |
| 133 | Bri Richardson | | | |
| 134 | Mohammed Eid | | | |
| 135 | Marijana Markovic | | | |
| 136 | Steven Juarbe & Rafael Caban | | | |
| 137 | Santiago Santiago | | | |
| 138 | Chris Collins | | | |
| 139 | Mohammed Masud Rana | | | |
| 140 | Craig Bryson | | | |
| 141 | Ken Roland | | | |
| 142 | Takako Kitaoka | | | |
| 143 | Joseph Lim | | | |
| 144 | Fedai Ozan | | | |
| 145 | Zeynel Açıkel | | | |
| 146 | Michael Palmstierna Hamilton | | | |
| 147 | Tyler and Tasha Daniels | | | |
| 148 | Wongyun Woo & Misoon Hwang | | | |
| 149 | Marilyn Chivetta | | | |
| 150 | Astrith Guerrero & Raúl Oviedo | | | |
| 151 | Brandon Stevens | | | |
| 152 | Marco & Willi Fausel | | | |
| 153 | Bentek Hijani | | | |
| 154 | Elizabeth Weber | | | |
| 155 | Kei Itaka and Midori Tajima | | | |
| 156 | Maria Schleipfer | | | |
| 157 | Rigo Yepez | | | |
| 158 | Ronnie and Sally Park | | | |
| 159 | Satu Rusanen | | | |
| 160 | Tim and Laura Sales | | | |
| 161 | Lindsey and Evan Gremont | | | |
| 162 | Todd Smith | | | |
| 163 | Sarah Fairless-Robbins | | | |
| 164 | Whitney Husband | | | |
| 165 | Ok Hee Kwan | | | |
| 166 | Resa and Matt Salter | | | |
| 167 | Presley & Jeanie Swagerty | | | |
| 168 | Steven Juarbe | | | |
| 169 | Marco Luis Balboa Ramirez | | | |
| 170 | Deni Robinson | | | |
| 171 | Jeff & Denise Bracken | | | |
| 172 | Brian & Andrea Sax | | | |
| 173 | Chandra Putra Negara | | | |
| 174 | Franco Lofranco | | | |
| 175 | Max Knowles | | | |
| 176 | Yuu Avantra | | | |
| 177 | Ralf & Heike Wunsch | | | |
| 178 | Jeanmarie Hepworth | | | |
| 179 | Bri Richardson | | | |
| 180 | Robin Packard | | | |
| 181 | Mark Ewell | | | |
| 182 | Valesky Barosy | | | |
| 183 | Georgi Alvarez & Yonfer Rojas | | | |
| 184 | Alan Noble | | | |
| 185 | Dan Doyle | | | |
| 186 | Matt Hall | | | |
| 187 | Paul Ovens | | | |
| 188 | Daniel and Jennifer Kim | | | |
| 189 | Debbie & Geoff Davis | | | |
| 190 | Kenton Worthington | | | |
| 191 | Shari Brown | | | |
| 192 | Logan & Haley Stout | | | |
| 193 | Hüdai Kenan Özaydın | | | |
| 194 | chip macgill | | | |
| 195 | Jose Luis Pastrana | | | |
| 196 | Denice and Tom Chenault | | | |
| 197 | John Forston III | | | |
| 198 | Nick and Jeanette Fransen | | | |
| 199 | Jeff and Jen Frey | | | |
| 200 | Li and Lance Fryling | | | |
Showing 1 to 200 of 2290 entries