Top Immune System Boosting Products Poll 2020
August 23, 2020
By Team Business For Home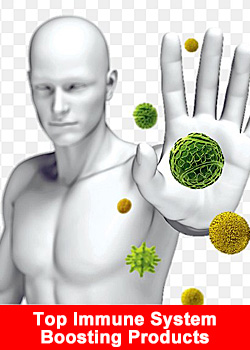 What are the Top Immune System Boosting Products the Direct Selling industry has to offer customers?
The immune system is your host defense system comprising many biological structures and processes within an organism that protects against disease.
To function properly, an immune system must detect a wide variety of agents, and distinguish them from the organism's own healthy tissue.
Direct Selling companies do not make health claims, however their products are very often "state of the art" with awesome benefits. (Above image we use is from 2017 and does not relate in any way to the present world situation)
Voting is in real time, to keep our polls honest, you can vote 1 time only, through our app (iOS and Android). To prevent "ghost votes" we have implemented a number of undisclosed algorithms. Do not try to vote multiple times, we notice that, your vote will be deleted, and it gives you as your company a bad name.
You can not comment on this poll as enthusiastic distributors tend to make health claims and we want to protect both companies as distributors from that 🙂
If we have missed a flag ship product, please submit a support ticket.
Please vote for your favourite product for 2020
The poll will end 15 September 2020 at 12.00 am (Central European Time)
How to vote, download or update the:
or
FREE App for Android (Click here)
In the App, in the lower right corner click "Poll"
Select your answer and click "Vote Now"
The Top 50 products
This poll is closed, it is no longer possible to vote
After 9,578 votes:
Total voters: 9,578
Drops by APL GO (20.7%, 1,984 votes)

Nutraburst by TLC (17.7%, 1,697 votes)

HemoHim by Atomy (17.2%, 1,647 votes)

C 24/7 by Alliance In Motion (10.4%, 992 votes)

FOL by Opulence Global (8.4%, 808 votes)

Soul By Rain (4%, 386 votes)

Biodefense by BioReigns (3.3%, 316 votes)

Reserve by Jeunesse (2.2%, 213 votes)

Peak Performance by Melaleuca (2%, 189 votes)

QMax by Qsciences (1.9%, 185 votes)

Bio-energitic Boost by Healy (1.7%, 166 votes)

Immune Boost by Valentus (1.1%, 109 votes)

MOA by ARIIX (1.1%, 105 votes)

Vital Plus by Enhanzz (0.8%, 73 votes)

Alkaline Booster by Seacret (0.7%, 63 votes)

DTX Drink by Verway (0.6%, 53 votes)

Colostrum by Vestige (0.6%, 53 votes)

Galaxy by Juuva (0.5%, 50 votes)

CBD Vitality by MyDailyChoice (0.5%, 49 votes)

Protandim by LifeVantage (0.5%, 45 votes)

Juice Plus+ by Juice Plus (0.3%, 32 votes)

Anti-Oxidant by Modere (0.3%, 30 votes)

Ambrotose by Mannatech (0.3%, 28 votes)

Fortress by New U Life (0.3%, 26 votes)

Essentials By Vabo-N (0.3%, 24 votes)

Vemma by Bode Pro (0.3%, 24 votes)

Pure Gold CBD by Kannaway (0.3%, 24 votes)

Pro Transfer by 4Life (0.2%, 23 votes)

Immunocal by Immunotec (0.2%, 15 votes)

Optimal set by PM International (0.1%, 13 votes)

Glutathione by LifeWave (0.1%, 11 votes)

Tahitian Noni by Morinda (0.1%, 11 votes)

Protect by Zinzino (0.1%, 11 votes)

Sunrise by Kyani (0.1%, 11 votes)

Go Shield by Amway (0.1%, 11 votes)

Core Complete by Vasayo (0.1%, 10 votes)

VitalBiome by Plexus (0.1%, 10 votes)

Cellgevity by Max International (0.1%, 10 votes)

N8 MAX NAT by Pruvit (0.1%, 9 votes)

Greens by Isagenix (0.1%, 8 votes)

Shri Tulsi by IMC (0.1%, 8 votes)

Redox by Asea (0.1%, 8 votes)

Immune by LifePharm (0.1%, 7 votes)

Supergreens by Forever (0.1%, 6 votes)

Cordyceps by Longrich (0.1%, 6 votes)

CellSentials by USANA (0.1%, 5 votes)

Greens Balance by Arbonne (0.1%, 5 votes)

Global Blend by Xyngular (0%, 4 votes)

Immunity by Shaklee (0%, 4 votes)

Shield:Ub By Uforia Science (0%, 1 votes)